We could hear the crackle of fire a short distance away. The voice on the radio was telling us the fire was out in the valley, but we could sense something odd when smoke and haze started to clear.
This can happen, senior firefighters told me. The air clears slightly due to the advancing fire sucking up oxygen. Looking up all I could see were flames burning trees and a line of fire and falling embers bearing down on us just 100 meters away from the property we had been sent to defend.
This was my very first day as a volunteer firefighter. I'd spent weeks training for it, but nothing prepares you for your first face to face encounter with a living, breathing, snarling wall of fire.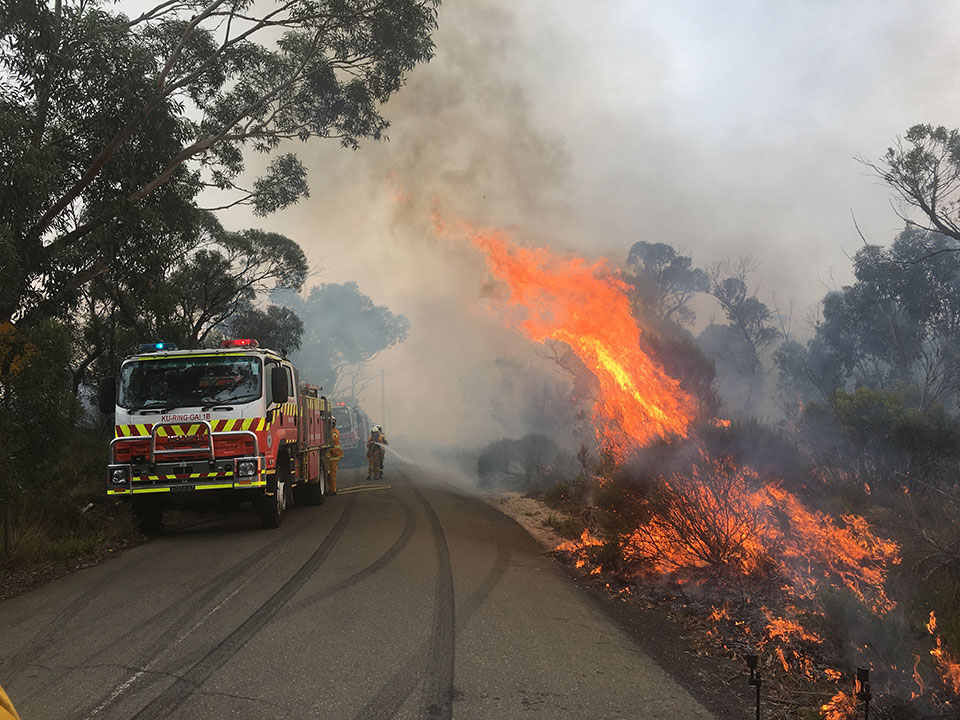 As the fire began to approach us, the smell of smoke got stronger and we could see trees begin to fall down. That's what's hard to cope with, hearing large trees fall over. That's what kills firefighters, falling trees and heart attacks from exhaustion.
By this time my adrenaline was really pumping. I'd never experienced anything like this before and I didn't really know what to do. There was nothing between the trees and the property apart from me, the other firefighters and our truck.
It was reassuring when looking to the other firefighters, who were relatively calm and collected. They knew exactly what was going to happen, how the fire was going to behave and the variety of possible scenarios.
I was wondering how they could be so calm when these fires, which can move at more than 60 kilometers per hour, were just 100 meters away. Then they explained that because they were burning downhill, it would take more than two hours to get to us.
When the owner heard this, you could see relief pour over his panicked face. He'd bought this property with his partner and put his heart and soul into making it a home. But they had been living with the knowledge that the fire was coming for them for weeks.
The fire was very controlled, and then everything changed.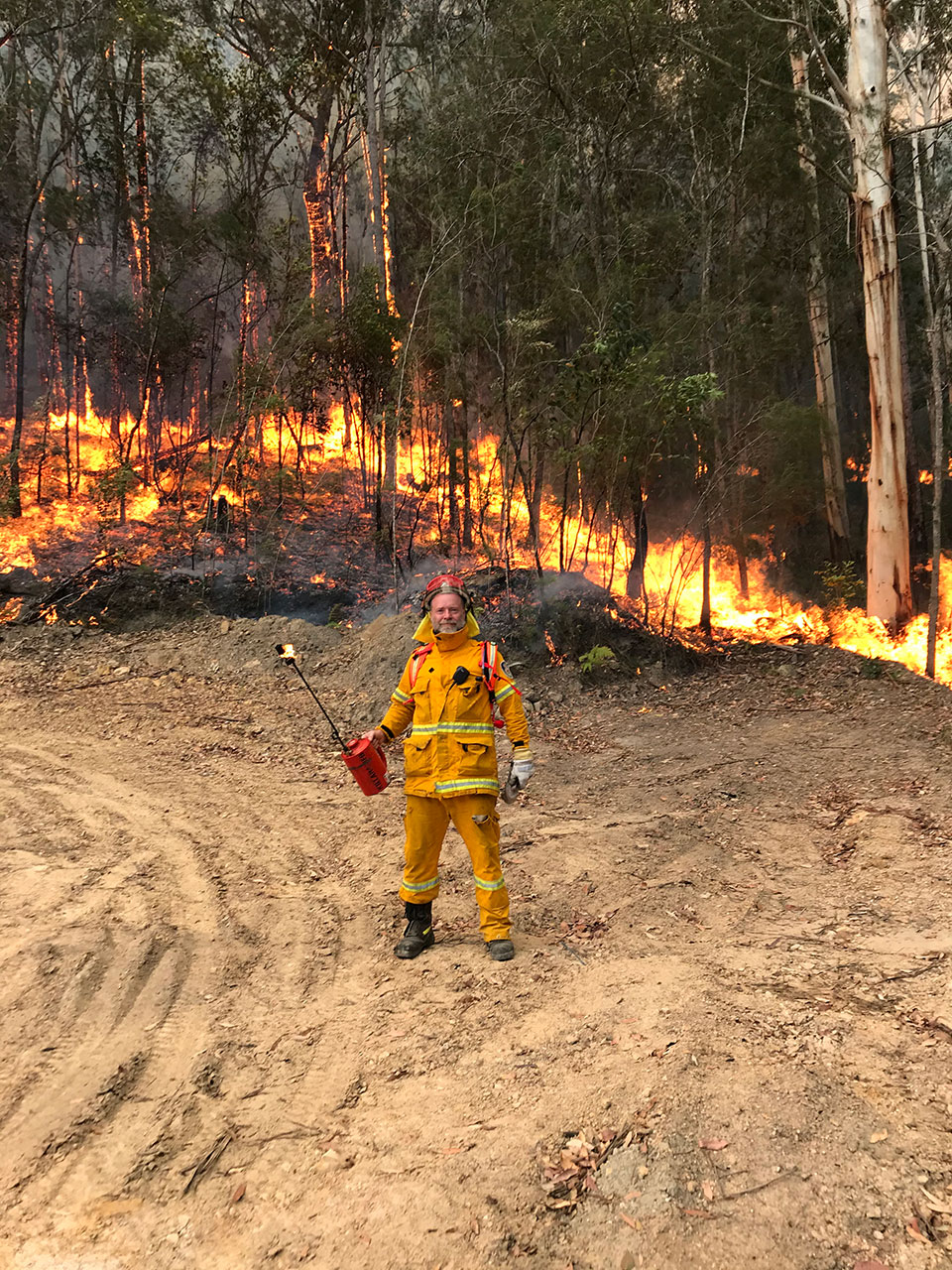 We spent 12 hours protecting that property as the flames did everything they could to take hold and destroy this family home. After we successfully defended it, I realized I was motivated to continue doing this as a volunteer firefighter. Saving lives and property felt very good.
Australians are used to bushfires, but these are unprecedented in scale and brutality, and it's a crisis that has rattled our nation, devastated hundreds of rural communities and left our biggest cities choking on smoke for weeks.
So far 10.4 million hectares of land have burned, razed more than 2000 buildings and more than a billion animals have been killed.
They have also killed 29 people, including three volunteer firefighters. And experts say that without sufficient rain and immediate action to combat climate change Australia will face similar fires next year. At 83 million hectares in the state of NSW alone, there is a lot of fuel on the ground waiting to burn.
There's a newfound respect across the country for the tens of thousands of men and women from all walks of life who make up the Rural Fire Service. Each of them is an unpaid volunteer. Made up of people from all walks of life. It's an inclusive culture that is part of the social fabric of Australia, with a long history of uniting communities.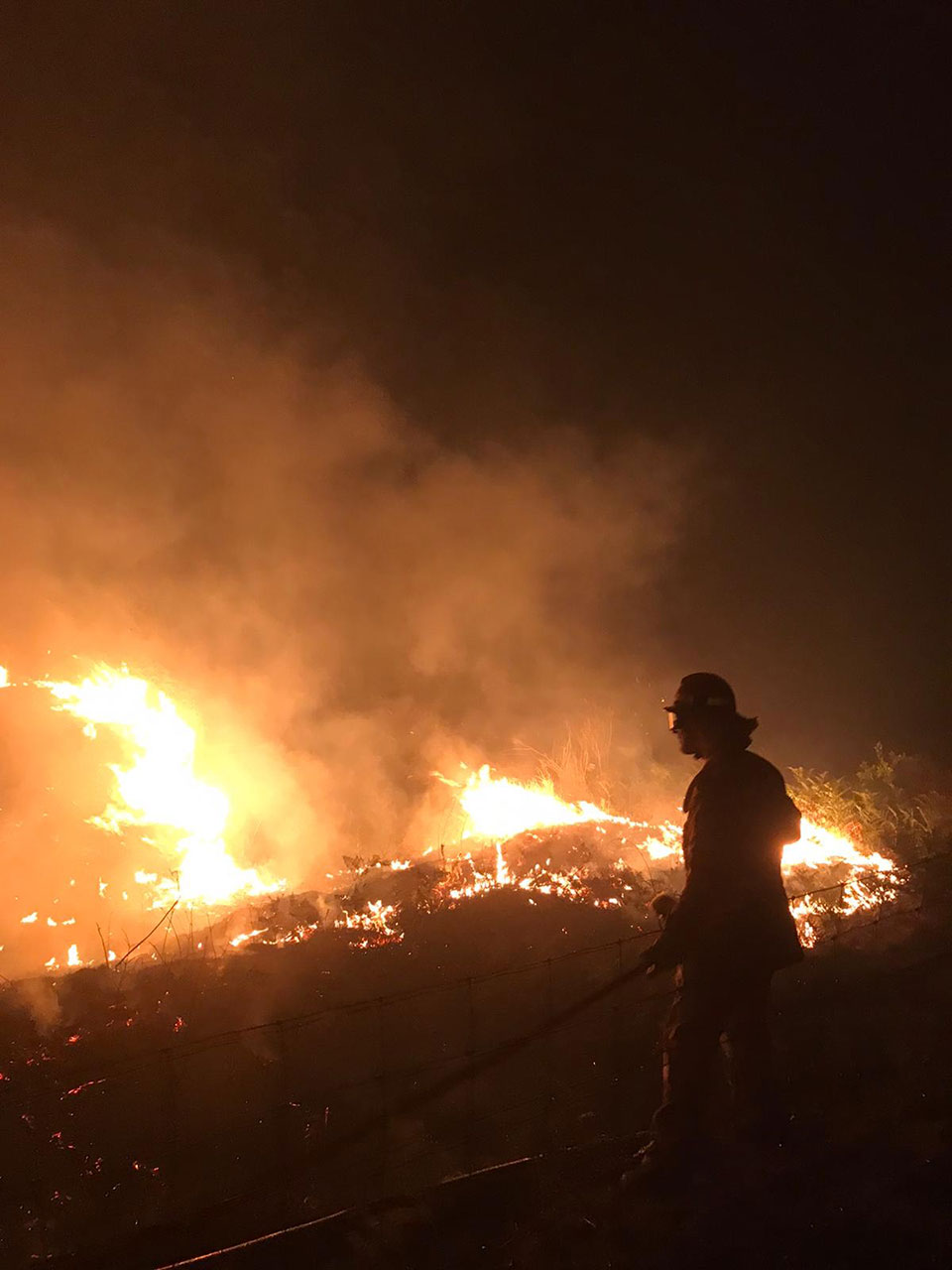 Our brigade is based in Killara and Ku Ring Gai on the rural fringes of Sydney surrounded by national parks to the north and the Blue Mountains world heritage area to the west. There's a handful of retirees, people with full-time jobs, families, different genders and broad age groups. Their motivations for doing this lie in the drive to make a difference when communities are at risk. A deep connection and respect of the Australian landscape and a love of the camaraderie within the brigade and associated emergency services.
The fires around the Blue Mountains, Central Coast, and South Coast are all within a day's drive. People go out on twelve-hour shifts and then drive back. They then have to get to the station, clean the truck and get everything ready for the next deployment. It's in constant rotation. The amount of time and energy each firefighter put in speaks volumes.
One of the hardest parts is that twelve-hour shifts don't always end, and they last all day and night. If you're defending property and your shift is up, you cannot leave, you have to stay. So volunteers work day and night without getting paid. It's remarkable really.
It's rewarding to be surrounded by many good, capable people that expect nothing in return. They are very genuine who are not looking for praise or reward. They appreciate the purpose they have and the difference they make.
The way the brigades operate is very much like a democracy, but also runs like the military. You have your deputy captains and captains, who have critical levels of responsibility when it comes to decision making and leadership on the fire ground. However, they are voted in by everyone in the brigade on an annual basis. This maintains high performance amongst the leadership and the ability to rise through the ranks quickly for talented youngsters.
Coming from the perspective of someone who has been a leader in companies, the leadership I see in the RFS is absolutely outstanding. I've witnessed a deliberate proactive demand on everyone to speak up to authority and call out risks or decisions that might be uncomfortable.
In real-time you have fluidity and transparency in terms of feedback and continual communication. Everyone has a voice allowing risks are mitigated against.
Debriefs focused on continuous improvement happens at the end of each deployment. Even the overall campaigns within fire seasons are subject to After Action Reviews (AAR), which is our usual practice at the end of any incident or campaign to determine what worked well and what requires improvement for next time. All members of the RFS are asked for their input to this process.
If people in the private sector behaved this way, it would have so many commercial benefits because you're fully tapping into the experience, skill, and knowledge of the people on salary. Everyone is equal in their responsibility to contribute to a better and safer operating environment and work culture.
I've been out at least weekly since that first shout in early November – sometimes leaving my family for four days at a time – and I've been able to learn techniques to fight fire and understand its many behaviors by working with different skilled people. Everyone shares knowledge because by doing that, you make the service better. I've learned so much and it's not been a chore at all.
The fires this year are unprecedented, the RFS records have seen nothing like this. The veteran firefighters were telling me that I've experienced something in a couple of months that they've experienced over many years.
One of the reasons I got involved is to show my two young children that it is sometimes good to volunteer for something meaningful. You don't have to do everything for money. I want them to have that in their lives.
I chose the RFS largely due to the fact that I grew up around the fire service, as my grandfather was a firefighter. I also have an appreciation for the physicality of it – I learn through doing and it's good to do something that also requires a level of courage.
Since joining, however, I've realized there are many other reasons to continue. You meet an excellent class of people and have the responsibility of defending lives and property. It is very uniting, and we're seeing people both locally and globally come together to show their support.
The donations being made are being used on equipment which helps massively for brigades in local communities.
This horrific fire season we have experienced should trigger Australia to take immediate action to tackle climate change. The time for debate is over because the disastrous effects are now upon us. We already know what should be done to slow climate change, it is madness not to make it an immediate national priority.
Being in a situation like this puts the relative importance of our industry into its proper perspective. Australia has the eyes of the world on it, we are ground zero for climate change.
We have an amazing opportunity to lead the world and ask for its help.
In the meantime, if you'd like to make a donation to the New South Wales Volunteer Fire Brigade, you can do so here.