By Uday Nayar, VP of Strategy and Planning, Merkle
Well before the COVID-19 pandemic was on anyone's radar, B2B marketers were being challenged to keep pace with the seamless experiences that customers have come to expect on the consumer sides of their lives. Now, in the wake of that pandemic, B2B customer expectations have increasingly demanded that those experiences include a new dimension: the capability for smooth e-commerce transactions.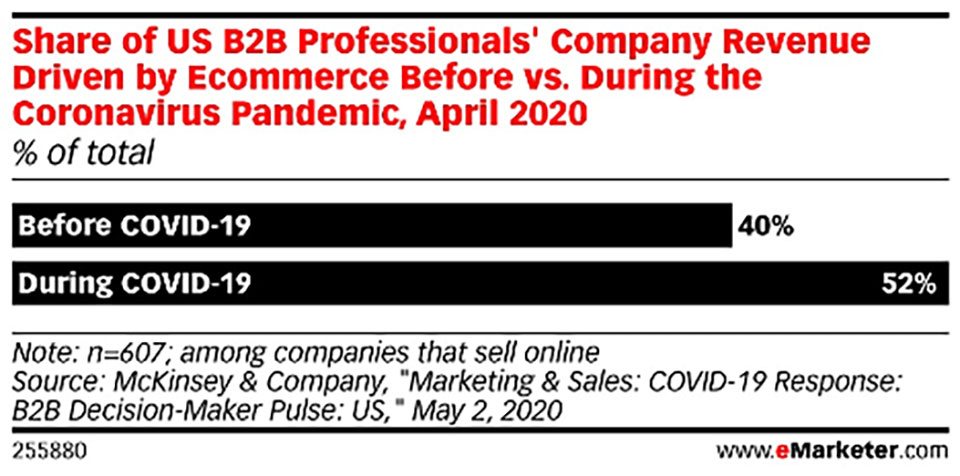 As B2B brands look to enable direct e-commerce transactions at an enterprise level, they must approach the process as a delicate balancing act. Let's look at the areas they need to consider when planning their transformation, as well as the benefits they can expect when they get to the other side.
The Pillars of B2B E-Commerce Transformation
For many B2B brands, the majority of effort that has historically been put into enabling e-commerce transactions has been focused on small businesses—enabling smaller-scale direct transactions for lower-priority accounts where the full weight of the distribution channel need not be brought to bear. But now, particularly as the millennial workforce moves into place and the pandemic continues to fundamentally alter the customer journey, even enterprise clients are looking for the control and convenience of lower-touch e-commerce transactions. So what do B2B brands need to consider as they look to enable e-commerce at the enterprise level?
Web engines and customer experiences. At a most basic level, to keep pace with customer demands, B2B brands will have to integrate an e-commerce engine into their existing web experiences—which isn't a simple feat in and of itself. But perhaps more importantly, B2B marketers must also adapt the customer journeys and marketing strategies that drive people to these engines. This requires a wholesale reevaluation of marketing channels, messaging and creative to build the brand-direct feel that buyers will expect.
Infrastructure and relationships. Unfortunately, the enablement of e-commerce engines and direct marketing tactics are the simplest part of making the pivot to B2B e-commerce. Unlike their B2C counterparts, B2B brands must also take into consideration their supply chain and fulfillment networks, which typically represent a complex web of agents, distributors, warehouses and other partners, all of whom have a vested interest in the B2B brand's sales model. As B2B brands make their pivots, they must look to ease friction and decide where it might make sense to enable e-commerce transactions with valued partners, versus the brand itself.
Team structure. Finally, B2B marketers must account for the changes that a shift to e-commerce sales will demand of their own internal teams. Without a doubt, enabling brand-direct transactions will have significant implications for a B2B brand's sales, demand generation and account-based marketing teams. The speed at which client engagements occur will greatly accelerate under direct e-commerce models, and sales and marketing teams must be equipped not just to respond, but to also capitalize on the opportunities opened by new direct access to buyers. Open teaming setups, in which team structures are approached in a fluid manner, encourage cross-departmental organization around a business goal, helping marketers break down the silos that may inhibit these types of shifts.
Reaping the Rewards
Despite the complexity of enabling e-commerce within the B2B sales and marketing model, there are significant benefits awaiting the brands that make it to the other side. For one, direct e-commerce enables brands to more fully control a customer's journey and experience, ensuring every touchpoint adheres to the high standards being set internally. But perhaps even more importantly, it also grants the brand access to new streams of first-party customer data that can be leveraged to better understand, engage, segment and message to customers and prospects throughout their journey.
For most B2B brands, pivoting to enable direct e-commerce experiences is a complex transition that requires realignment and transformation at the very core of their businesses. It's not as simple as just flipping the switch. Most B2B brands have an intricate ecosystem of distributors, agents, system integrators and more to take into account, not to mention nuanced competitive considerations. However, in light of recent shifts in the business landscape, and as buyers look to streamline their purchasing paths and work directly with the companies that provide the solutions they need, these are important considerations that can no longer be shuffled to the back burner. "We've always done it this way" is not a valid reason to stagnate. In a once-in-a-lifetime shock to our economy, now is the time for B2B brands to embrace the "never before."