By Ross Kimbarovsky, Founder and CEO at crowdspring
Being an entrepreneur is already hard enough.
Imagine starting a business as a founder of color or a minority founder.
Founders of color and minority founders face many additional challenges and must overcome established stereotypes that create obstacles at nearly every turn.
But, although minorities make up 40% of the U.S. population, minority-owned business ownership represents only 20 percent of the population.
The numbers are equally mismatched for women business owners. Women are 51% of the U.S. population but only 33% of business owners with employees.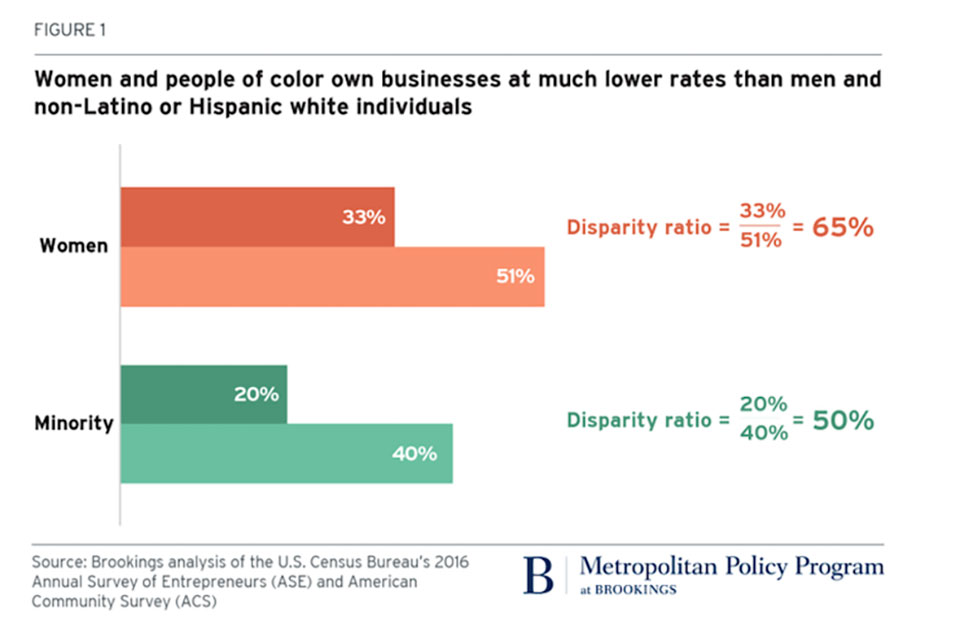 And, the numbers are even more troubling when you look at venture funding.
Black founders receive less than 1% of venture capital, only 8% of venture capital-funded startups founders are women, and fewer than 0.4% of startup founders are Latina.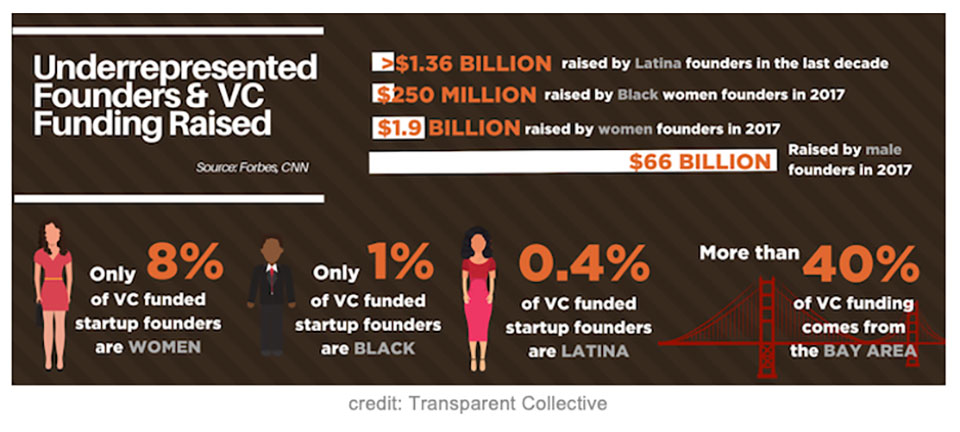 As if those disadvantages weren't grave enough, systemic racism at financial institutions makes it difficult for minority-owned businesses to obtain debt financing.
And because of those challenges, during periods of economic turmoil, minority-owned businesses fail at a much higher rate than other businesses.
Despite those challenges, the opportunities for minority-owned businesses are enormous.
By 2044, more than half of all Americans are projected to belong to a minority group.
Minority business owners and founders of color bring a unique perspective that over the next several decades, can help them create a strong brand identity and build successful and sustainable businesses.
Here are 3 important branding insights that can help the founders of color and minority founders build a thriving business:
1. Learn what it takes to build a strong and sustainable brand
Many inexperienced entrepreneurs believe that their company logo and business tagline are their "brand".
But, a brand is much more than the logo and tagline.
A brand is a set of features that differentiate one company from another.
Your company's brand is defined by its business name, logo or symbol, design, tagline, brand voice, and everything visual about the company.
The visual elements of your brand form the brand identity – what you, customers, and prospects can see.
But a brand is more than its identity.
A brand also includes the sum total of the experiences customers, social media followers, fans, and prospects have with your company.
Your company's reputation, the way products and services are advertised, and your company's values are all part of your brand.
In fact, every decision your company makes and every action that it takes affects the brand.
Founders of color and minority founders who created brands like Harpo, FUBU, Black Girls Code, Bevel, and Zumba Fitness understood the importance of building a strong brand when they started their ventures.
They knew that the goal of branding is to tell a company's story in a way that creates loyalty, awareness, and excitement.
And they managed to successfully do so by building an effective brand strategy.
You can do the same for your business.
And, if you find yourself already running a business that appears to be stuck, consider rebranding.
It's not unusual for a business to fall behind and even successful brands regularly refresh their identities to appear fresh and relevant.
2. Create a brand strategy for your new business
Define your vision, mission, and values
If you're just starting your business, begin with a blank sheet of paper and fully define your company's vision, mission, and values.
Articulate your brand positioning
Once you've defined your vision, mission, and values, articulate your brand positioning.
Brand positioning explains how your company differentiates in the marketplace and how you are different from your competitors.
Brand positioning will be especially important when you write a  business plan. Lenders and investors will want to understand how you will differentiate and why those differences will help you succeed.
You can build a race-neutral and/or sex-neutral brand while still embracing ways that you and your brand are unique.
Or, you can use your unique perspective to build and articulate a unique identity – one that lenders and investors don't often see.
As a founder of color or a minority founder, you have a unique perspective. It's not unusual for minority business owners and founders of color to observe different problems or to offer different solutions than business owners from other groups.
This unique perspective gives you an opportunity to bring innovative products and services designed for everyone, or to pick a segment of your target market and create products or services for that market segment.
For example, Bevel founder Tristan Walker launched products through Walker & Company to help Black men who faced unique problems while grooming.
At the time, many companies made razors for a broad market audience, but Walker was frustrated that those products didn't meet the needs of Black men.
Walker could have started a new razor company with a broad audience, but he chose to focus on an audience he believed wasn't being effectively served by any existing products.
And, he clearly articulated from the very beginning, what Bevel did better than anyone else for Black men.
Rather than targeting a huge market in which you'll face huge competition, consider, like Tristan Walker, finding a market that large competitors don't understand because their marketing and leadership teams don't look like or think like the target customers.
Develop your unique selling proposition
Once you understand brand positioning, you must articulate your unique selling proposition.
A company's unique selling proposition ("USP") is what your business stands for. For example, Apple's USP is found in "user experience": everything they do is meant to have the user at its core.
For minority founders and founders of color, the USP can focus on the specific needs of a smaller group within a larger market, or on the unique innovations, your products bring to the broader market.
As noted above, Walker focused on products for Black men because he understood them well and because nobody else was offering good products for that audience.
But you can also innovate and target your products and services to the broader market like Apple does but thinking of ways you can innovate and create unique solutions that don't exist.
Apple creates innovative products that are appreciated, loved, and valued by many people across different cultures, languages, races, and demographics.
Create your brand identity assets
Once you have defined your USP, it's time to create your core brand identity assets.
Custom design can be expensive, but there are good and affordable solutions. Read this terrific guide on the cost of design, covering cheap, affordable, and expensive options and the key questions you should ask your designer or agency.
You'll need a memorable business name for your new business, a unique logo design, a business website, and other visual elements that will reflect your brand.
Give yourself an advantage – read this complete 20,000-word brand identity guide that covers everything you need to know about building a strong brand identity.
3. Execute your brand strategy
Once you've completed discovery and developed your core identity, you must find the right way to communicate about your brand through marketing.
Execution is crucial to put your business on a path to success.
And, here too, founders of color and minority entrepreneurs face numerous obstacles and a scaling gap.
For example, only 19 percent of Black-owned businesses and 20 percent of Hispanic-owned businesses grow to 10 or more employees, compared to 25 percent of companies owned by founders from other groups.
If you're a celebrity like Rihanna, you can help create a powerful brand like Fenty by offering substantially more shades of foundation and other products that include all skin tones, targeting women of all ethnicities and body types.
Prior to Fenty, most beauty brands focused on a segment of the beauty market. Most popular brands offered shades of foundation only for Caucasian women.
But after Fenty's successful launch, other beauty brands had to quickly reflect on the lack of diversity in their products and marketing.
The good news is that you don't need to be a global superstar to differentiate your business.
Fenty succeeded, in part, because of Rihanna. But, it also reimagined how a beauty brand can serve ALL women and not just a small subset of women.
Inclusivity, and not merely celebrity, was Fenty's unique selling proposition.
What's your unique selling proposition and are you ready to get started?
About the Author:
Ross Kimbarovsky is founder and CEO at crowdspring, where more than 220,000 experienced freelancers help agencies, small businesses, entrepreneurs, and non-profits with high-quality custom logo design, web design, graphic design, product design, and company naming services. Ross mentors entrepreneurs through TechStars and Founder Institute was honored as one of Techweek100′s top technology leaders and business visionaries and enjoys wearing shorts to work after a successful 13-year career as a trial lawyer. Ross has founded numerous other startups, including Startup Foundry, Quickly Legal, and Respect.