With events taking center stage such as VivaTech and so much more in terms of culture, brands and business, you will probably find yourself in Paris, France sooner than later. Here's my picks for where to go and what to do so that you can see the city at its best. Let's go: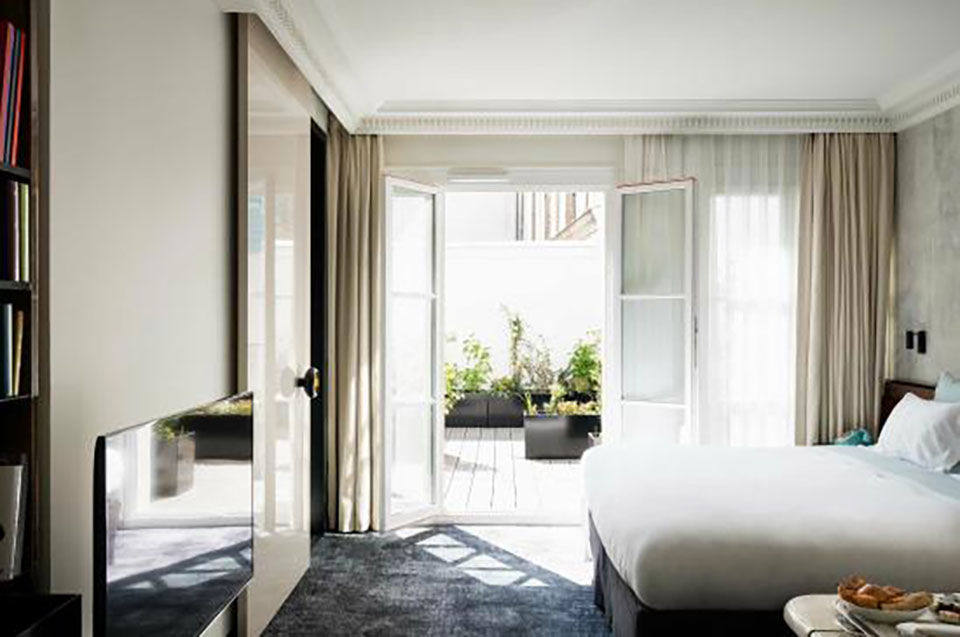 STAY: The beauty of Paris is that you can find a perfectly amazing Airbnb for a good price or max out the budget at Plaza Athenee and everything in between.  However, I'm a bit partial to Le Bains hotel. Maybe it's still the legendary vibe of the famous club Le Bain Douche that still somehow lingers in the air or it's the combo of restaurant, spa, club and concept store that makes this boutique hotel its own little hip world in Paris. The rooms are light and pleasant, the service is excellent, it's centrally located though on a quiet street, retains some elements of the décor of the original establishment, and it's an adults-only hotel. What more can I say? 7 Rue du Bourg L'Abbe.
SHOP: It would be ridiculous to list all the many places to shop in Paris from massive department stores such as Printemps, which I still think is better than Galeries Lafayette, to designer boutiques to hip shops near Rue Tiquetonne, I will say that I'm kinda loving Montaigne Market for its eye to spot the most chic and most unusual of all the designer names. They've moved into the new address. Pay a visit at 18 Avenue Matignon.
RIDE: For those who may not know, Uber is in full effect here, as it is throughout many parts of the world, and the drivers are good and friendly. But the metro offers a world of ticket options from a single-ride to all day to a week. It's great. It's fast and frequent (though does not run all night. Something this New Yorker laments no matter what city I am in the world, except Chicago and Tokyo). The last time I was there, due to air quality given the heat wave, one could even ride unlimited all day for 3.80 euros or about $4.30, at the time of this writing. However, also the last time I was there, a Lamborghini club was camped out in front of Louis Vuitton's flagship store on Champs-Elysee. Not a bad way to travel, if you can hunt one down.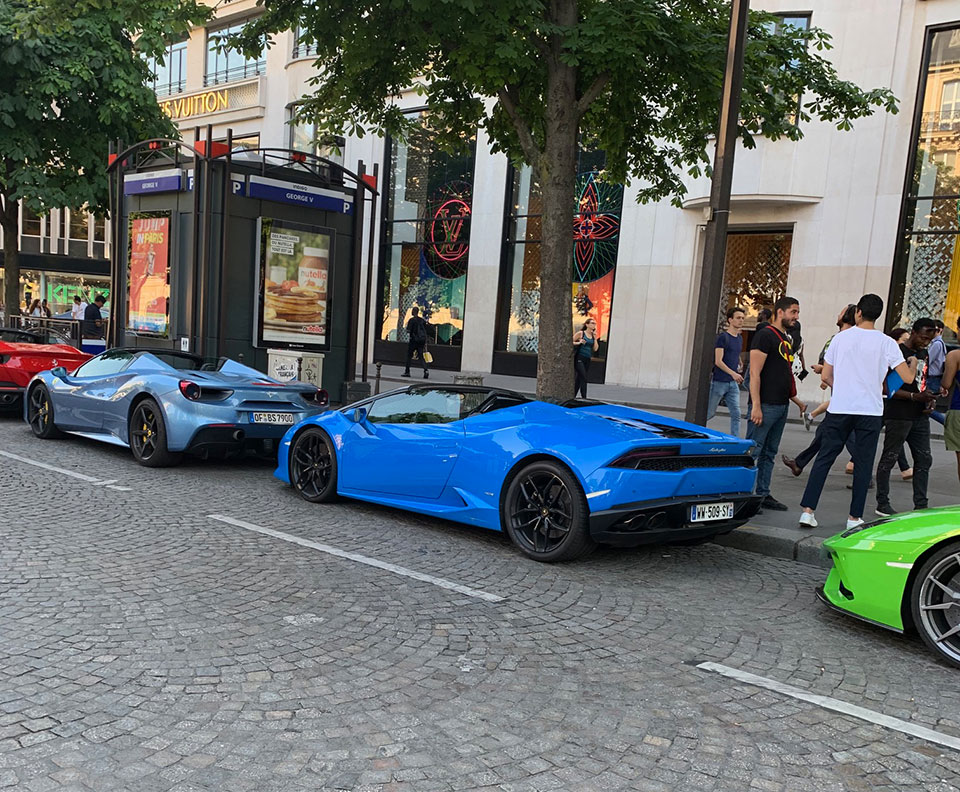 EAT:  A great place for lunch is Joia on 39 Rue des Jeuneurs.  I had an amazing cold pea soup there as a starter that is not to be missed. This two floor restaurant is located just a few blocks from the Bourse metro, and a place that is known as a see-and-be-seen among hipper advertising and media types. This is about a real Parisian scene.  No tourists.
If you want a more low-key place for lunch just for one's self, I have to say that the flat-price for a miso soup, cole slaw-like salad, sushi, sashimi and beef and poultry brochettes at Hoki Sushi is a steal no matter from which country you hail. The fish is butter soft, and the service is fairly quick. Sit indoors or out.  No air-conditioning, but there are fans.  It's very, very, good. 20 Rue de la Grande Truanderie.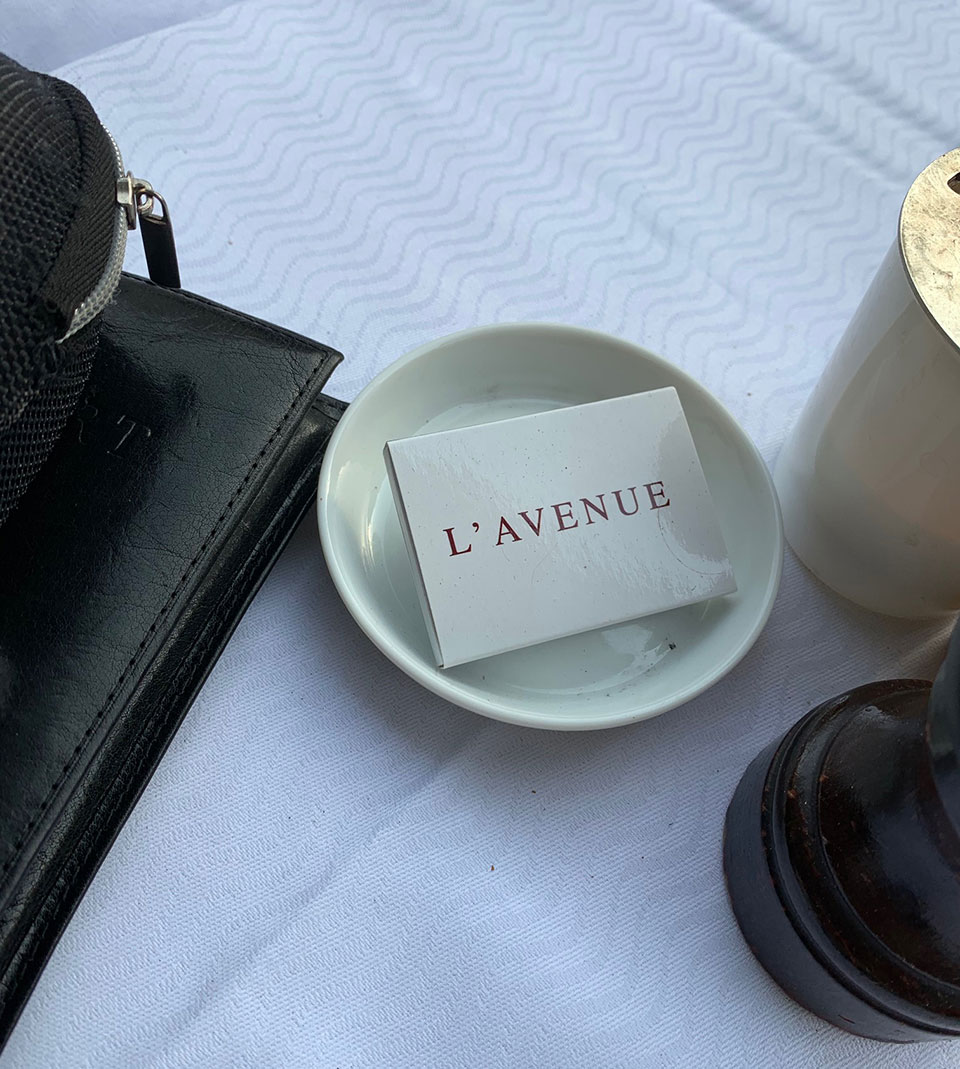 But of course for dinner the eternal stand-by is L'Avenue at 41 Avenue Montaigne. I love how this chic spot only takes reservations via email (in French or English, your choice) and really responds to them.  While the main floor and terrace are all about the see-and-be-seen vibe here (great for client dinners), the third floor holds and absolutely precious, dark jewel of a bar that serves impeccable cocktails. A must as a quick escape or for a sophisticated celebratory spirit to celebrate a new contract or just the mere fact that you're in Paris and the rest of the agency isn't. A quick note: you cannot go wrong with the chicken paillard. The chutney that accompanies it is a triumph.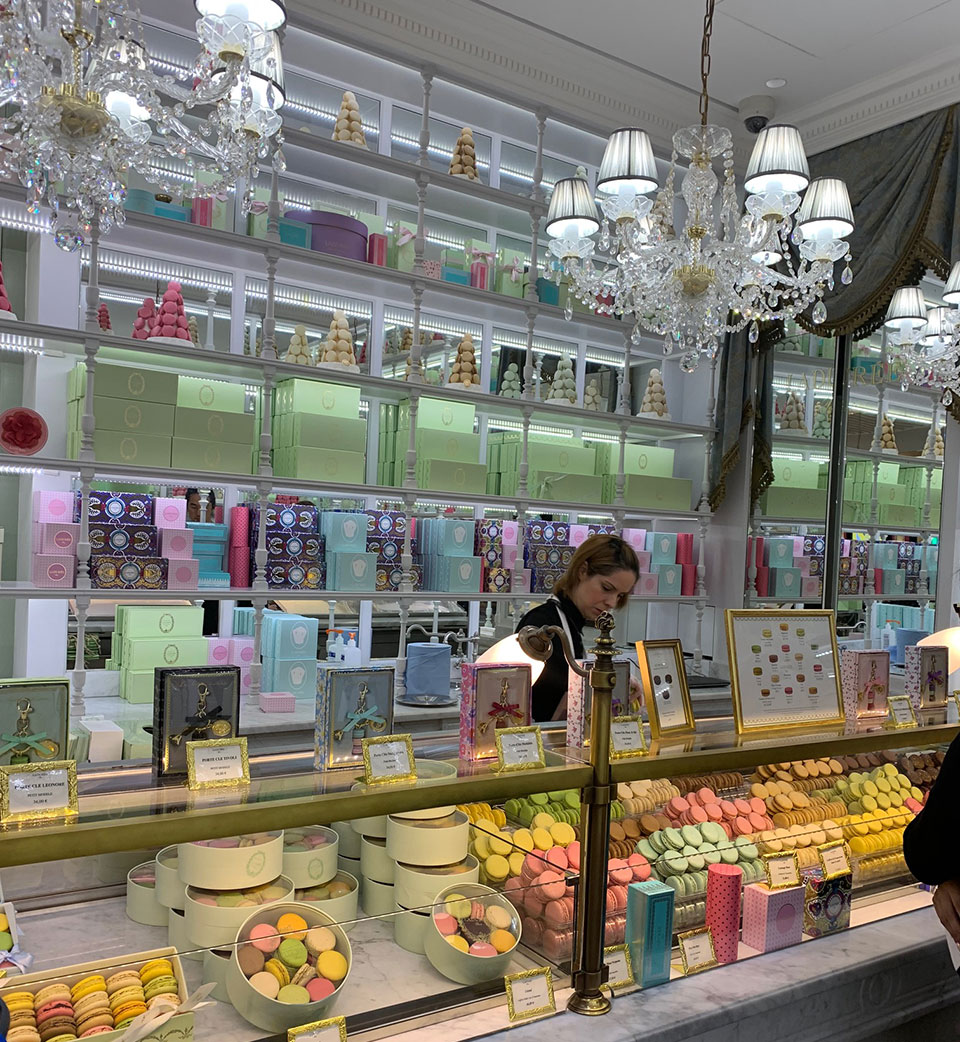 By the way, hopefully you've been smart enough to run into a Laduree shop for the best macarons in the world, stashed them in your hotel and able to pop a couple once you make it back to your room as the private perfect dessert topping to this meal as you put your feet up in bed.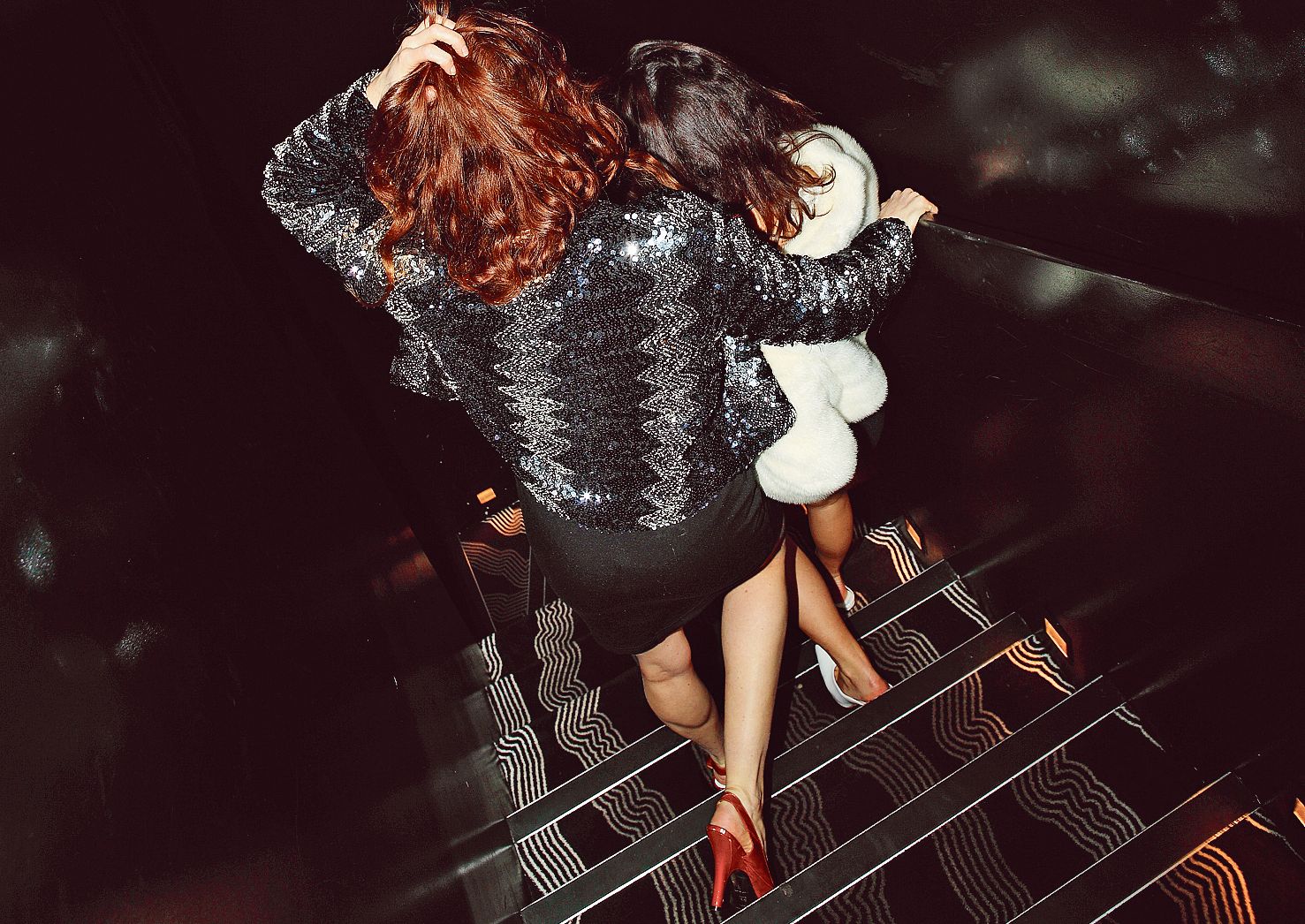 DRINK:  On my most recent trip to Paris I discovered an ideal fresh juice bar that rivals any in L.A. Complete with indoor seating, an outdoor terrace as well as a sweet, almost country-store vibe of outdoor seating on the property's side Juice Lab & Co is an authentic go-to. This is the place to hit for all the right juices to sustain your energy and replenish while running here and there all across Paris for business.  Their bowls are also tasty and the avocado toast is a massive meal. Leave time here, though, because the staff moves at its own pace. But who cares? It's Paris.  And if you are lucky enough to find seating on the terrace you are within the impressive Place des Vosges that gives you an amazing view of one of the oldest squares in Paris. Or take a walk and look for beautiful gated gardens nearby where you could also bring your juice to sit and contemplate in a more private environment if you wish.
From super nutrients to super chic, my absolutely fave for a cocktail in Paris is, of course, the legendary Hemingway Bar in the Ritz Hotel once the end of the afternoon hits (be advised, no reservations, and it does get crowded). However, last time I stumbled upon a very cool spot that I must now share. It's called Bar Bourbon and is located on the main floor that joins or is somehow part of Hotel Bourbon next door. Yes, there are great drinks here, but the real gem is that starting at about 1am, the back staircase behind the bar leads down into an ultra-chic nightclub that has been designed with authentic furnishings from the 70s in a way that only the French could do. Low ceilings, multiple rooms and a killer DJ make this a very hot spot. Even has its own separate, enclosed room for smoking breaks in between those hot cuts on the dance floor. Be aware. Doormen at the front are looking to maintain the vibe for which the brand stands. Come correct. 39 Rue des Petites Ecuries.
DO: Of course you've hit all the major attractions in the past from the Eiffel Tower to Notre Dame (currently under re-construction after the massive fire) to the Arc de Triomphe. Try something different.
See if you can get a quick tour of Station F. It is the biggest tech incubator in the world.  Now in its fourth year, this place is a behemoth of creativity and innovation with various section supported by Facebook, Apple, LVMH and more. Also has an absolutely huge eating area with several restaurant at the rear. I first reported on this area before ground was even broken.
Many scoffed, but now, it's insane. Everyone is writing about it. It's getting bigger and bigger and the exits reported are more and more substantial. Very impressive undertaking. Don't miss it.
On a more chill note, if you haven't ever checked out a movie in Paris, do. UGC Bercy is my absolute pick. There are a ton of screens here and many play releases in V.O. (or Version Originale. Original Verision. Meaning for you, English, if the film is from the States). The beauty of this place is that it sits at the end of what is called Bercy Village, a charming cobble-stoned area with cute restaurants and shops that lead you right to the cinema.  The metro stops right there, making things very easy.  The exact address is 2 Cour Saint-Emilion. While this theater boasts full kiosk check-in and more, the fun for me is that French theaters always offer not only regular buttered popcorn but also a light kettle corn-of-sorts that is to die for! Eat this now!  Great way to unwind after a day of back-to-back meetings or commercial shoots.
Now pack those bags and get moving. Vive le France!