By touch
The Sanofi Company Day is an annual internal event designed to bring all 900 employees of the Sanofi UK & Ireland Group together to share key business updates and host a companywide social event.
In March 2020, following a competitive RFP process involving several agencies, touch was appointed to deliver the live event in September, despite the emerging COVID-19 pandemic.
By early May it was apparent that it was very unlikely that a live event would be able to take place and the initial thinking by the client was to postpone it until early 2021 and hold a simple 'Zoom' based update (Sanofi were already a mature user of Zoom technology).
touch positively challenged the client's thinking. Several weeks into full lockdown, the agency warned of Zoom fatigue and established some alternative routes to explore for greater impact and engagement.
Objectives
The strategic objective for this year's meeting was to embrace a new mindset, set by Sanofi's new CEO, to "Play to Win". Focusing on four pillars, including growth, innovation, efficiency and culture, touch needed to create Sanofi's first-ever virtual event by designing an experience that would not only provide an engaging platform to deliver the messaging needed to support the strategic objective, but also make each employee feel part of the event despite it being delivered virtually.
Solutions
Strategy
touch's strategy included developing a fully bespoke virtual environment that allowed for multiple live plenary presentations and Q&As, to ensure the event created remained engaging but also delivered the strategic business message. By including four breakout sessions of 200 attendees each, it allowed sub-breakout groups, audience interaction options, and an engaging and fun social evening element. This involved the audience and a strategic comms plan to promote the event and support the key messaging throughout the engagement window.
Expression
'The S Factor' theme chosen, was designed to focus on the business strategy, a Play to Win mindset – including what it takes to achieve that mindset through behaviour change and moving out of comfort zones.
A daytime visual identity was used to support the business sessions, which then transformed into an evening identity to boost the social element of the event.
The virtual environment design replicated the actual Sanofi UK HQ and leveraged elements of a TV studio to support the evening part of the event. Four bespoke breakout activities were also designed to highlight the importance of each key behaviour in the Play to Win strategy. These behaviours include stretching to go beyond the level operated at up until now, acting in the interest of patients or customers, taking action instead of waiting to be told what to do and finally, putting the interests of the organisation ahead of their own or the teams.
Execution
The executive team and senior leaders from Sanofi UK live-streamed from a purpose-built green screen studio in their UK HQ. Live presentations were also streamed remotely from presenter's homes in the USA and France.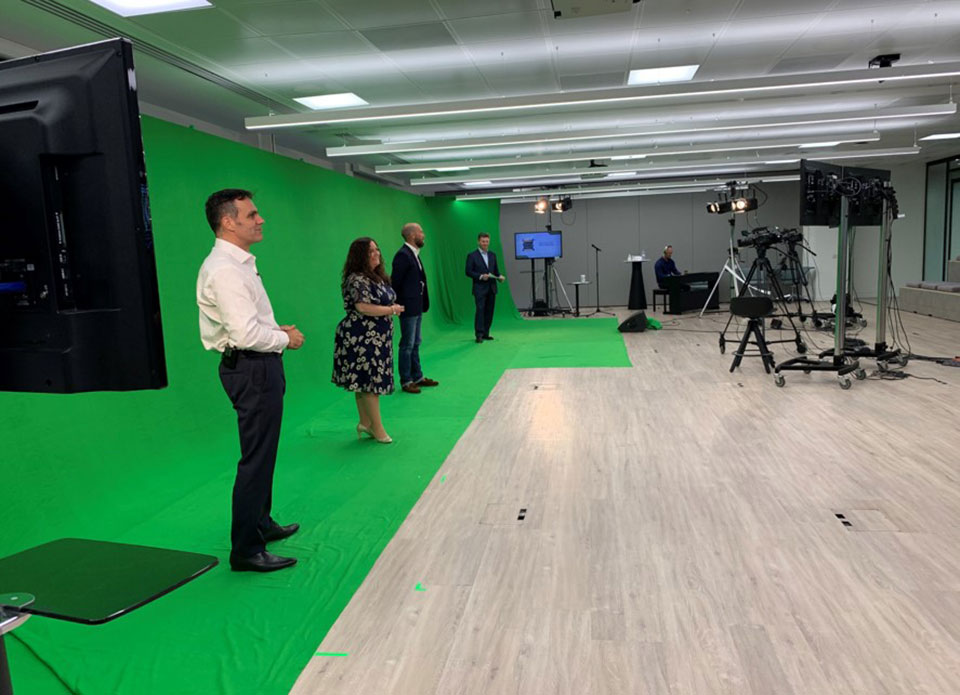 Zoom-based breakouts were facilitated by Sanofi employees. Each breakout was designed by touch to specifically address each of the key behaviours of the business strategy. Each breakout group was then split into smaller working groups within Zoom, before regrouping and sharing the results with their peers.
A networking lounge and social wall available throughout the day was created to encourage peer-to-peer networking and sharing of their experience. The social event was based on popular TV talent shows including pre-event auditions, audience voting and live finalist performances, using green screen technology to help bring them to life.
As part of a full pre-event engagement strategy, each attendee received an S-Factor event package containing items to use throughout the live event day. This included a full cocktail making kit, to be used in conjunction with a cocktail masterclass, personalised for the event and delivered virtually from the S-Factor bar. Content recorded from the live day was also posted in the virtual space post-event to allow people to revisit the content on-demand.
Results
The platform launched on the 1st September, and between the 1st and 4th there were 502 logins to vote on the auditions and view the welcome video.
A further 91 people logged into the environment between the 4th and the live day, resulting in 593 unique logins to the virtual environment before the 14th of September.
Attendance on 14th September reached 735 logins throughout the day, with 672 logins at any one time. Over 700 participants were logged in for over 2 hours.
Verdict from the client
"A huge thank you to touch for being our partners in this exciting venture, you've done a fabulous job" Hugo Fry, Managing Director, Sanofi UK & Ireland.
"You guys made us feel completely at ease and very comfortable throughout the whole journey. Your communication was excellent, we never had to worry about anything as you were always on it and had everything under control" Jack Cox, Head of Communications, Sanofi UK & Ireland.
"Just a note to let you know how much I've enjoyed working with you over the past few months. You are an incredible, positive force and I truly admire the way you're able to make people – clients in general and presenters specifically – feel at ease. And the way you manage those endless last-minute changes! It's amazing how you kept us all on track through stressful moments, with a genuine smile and warm laugh to boot" Anneke Nelson, Head of Employee Engagement, Sanofi UK & Ireland.