By Anna Bager, president and chief executive officer of the Out of Home Advertising Association of America
Aerials. Beauty shops. Billboards. Bus shelters. Buses. Coffee sleeves. College campuses. Gas pumps. Posters. Truck-sides. Smoke shops. And, yes, a sidewalk stencil ("Vote Early") outside a Baptist church in Detroit.
Political ads in battleground states showcase the varied formats in out of home media, and politicians' intense desire to connect with voters outside their homes.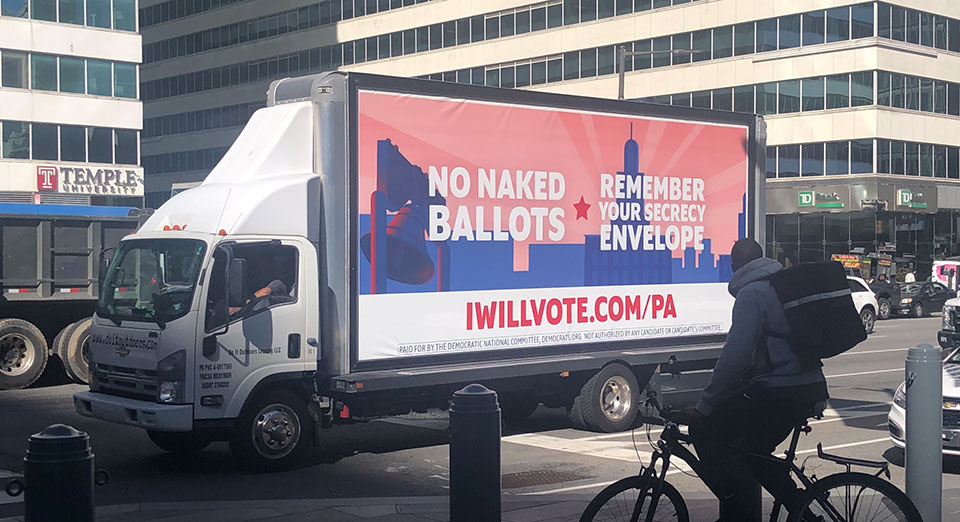 Political ad spend will hit another record in this election. The mega-dollar presidential race focuses on Arizona, Florida, Michigan, North Carolina, Pennsylvania, Wisconsin, and perhaps a few other states. The campaigns are motivating their base voters and also chasing swing voters, including those who watch little or no TV.
Experts who are buying and selling political ads say out of home media:
Breaks through the clutter
Matches messages to demographic targets
Reaches voters in the physical world
Long reach
Parishioners en route to The Greater Christ Baptist Church in Detroit walk by a chalk stencil reminding them to vote early.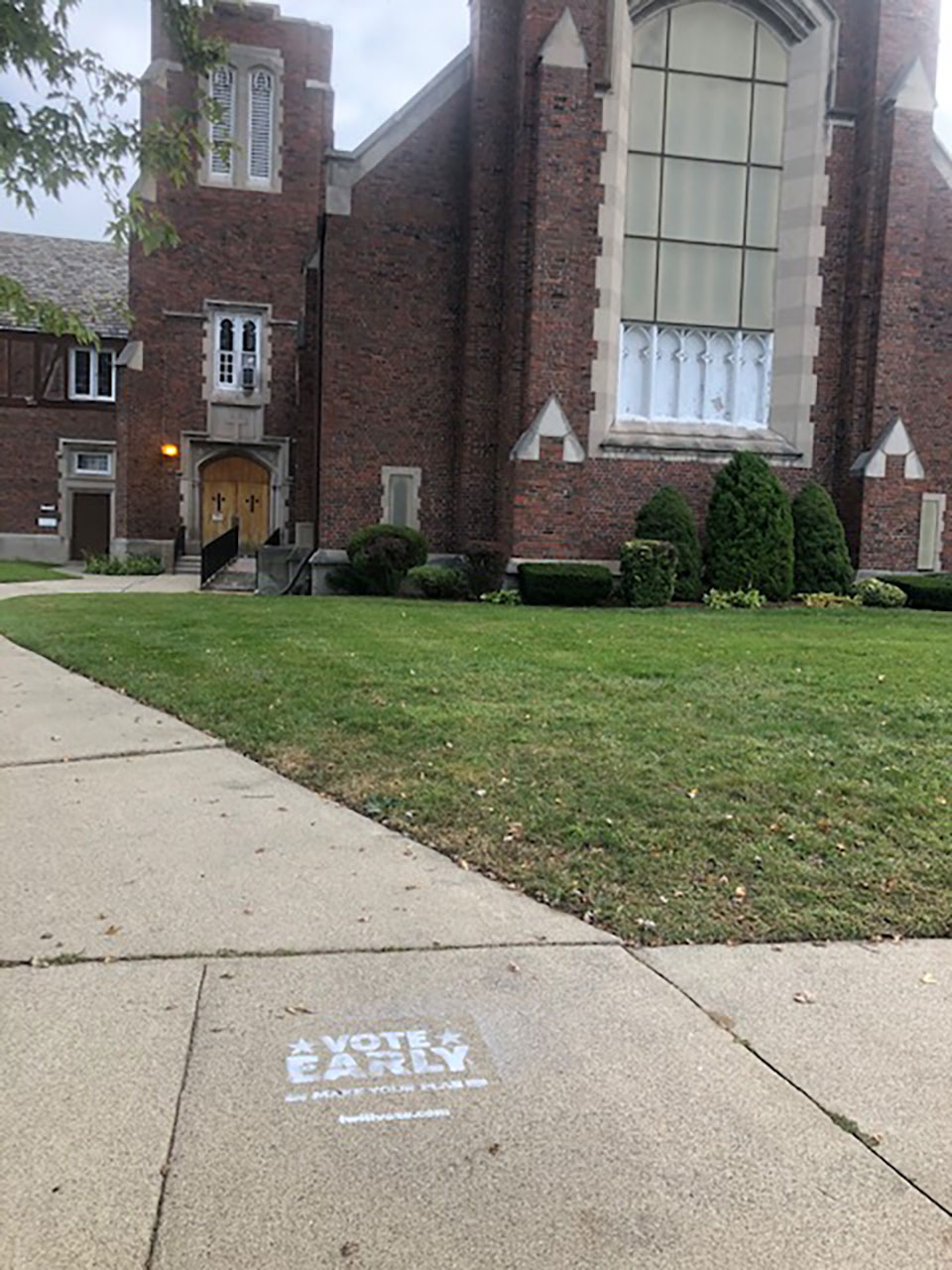 At thousands of locations in battleground states, coffee sleeves put political messages into the hands of voters, says Don Winter of Encompass Media Group based in Long Island City, NY. "Vote Early" posters in English and Spanish are displayed in buildings, lobbies, and shops, such as this beauty salon in Arizona.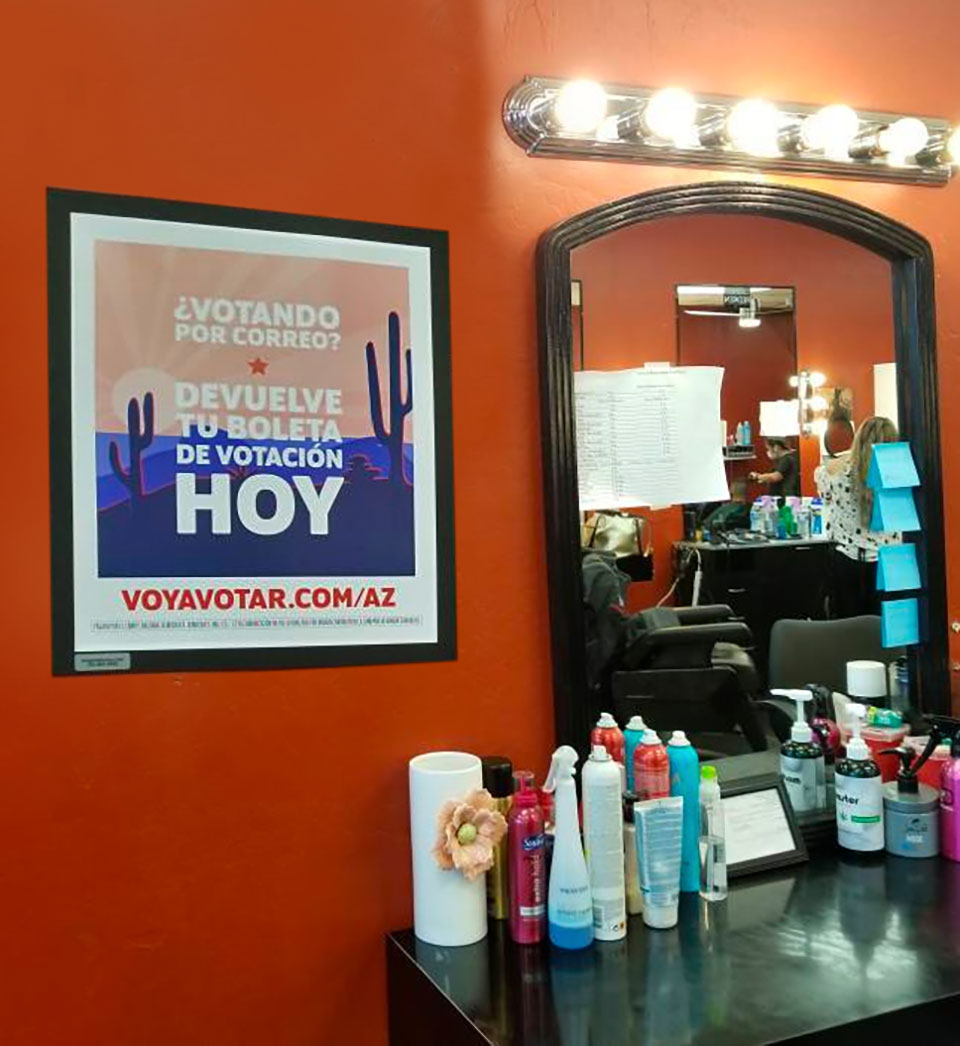 At the University of Wisconsin-Oshkosh, newspaper rack stands feature political ads. Van Wagner Aerial Media displays political messages in battleground states.
Hyper-localization
In Pennsylvania and other battleground states, billboards feature the hometowns of regular citizens (such as Amy from Camp Hill, PA.)
Political pros say peers and family will influence persuadable voters in this highly partisan election.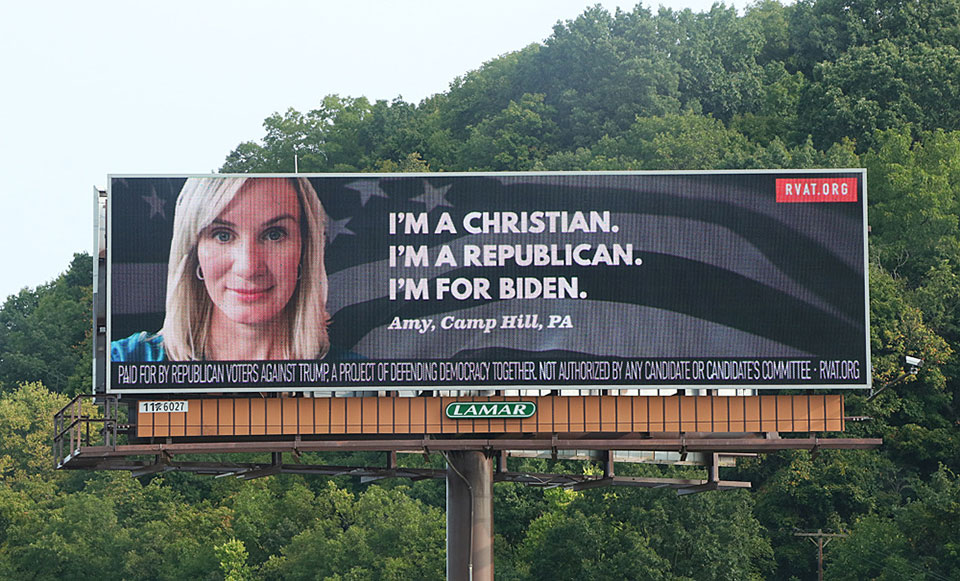 A combat veteran, Senate candidate Amy McGrath's billboards target military bases in Kentucky. A Trump2020 billboard near Gary, IN, was posted by local "Steelworkers of NW Indiana."
Crowd-funding
Large clients such as political parties and political-action groups are spending millions on sophisticated out of home media buys. Crowd-funding made easy by social media means that virtually anyone can amplify political expression on billboards and other out-of-home formats.
In Missouri, a pro-Trump group self-identified as the "deplorables" posted a red, white, and blue billboard operated by DDI Media based in St. Louis.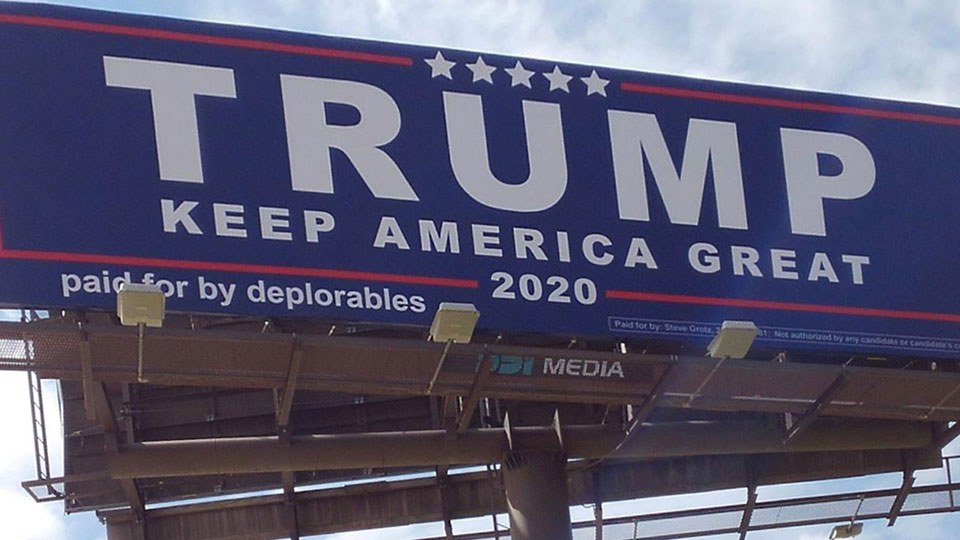 Likewise, a Trump2020 billboard in Oregon was sponsored by citizens of Union County. When President Trump visited Scranton, PA, local Biden supporters paid for a digital billboard proclaiming "Scranton is Joe Biden Country," showcasing speed of posting, localization of message, and ability to generate publicity. In Tampa, a pro-Biden doctor put a billboard ("Restore Integrity").
Growth category
In the pandemic, political-ad spend is a growth category for out of home media. Kantar media tracking says the political category for out of home media was up 37 percent in the first eight months of 2020 compared by the same period in the previous presidential election (2016).
Most out of home political ads promote local candidates and causes. In this raspy, divided political climate, some of them just want to say "thank you."