The coronavirus pandemic radically shifted human behavior, rocking the everyday lives of consumers. What most initially thought was going to be just a few weeks of stay at home orders has turned into a lasting recalibration of what "normal" looks like.
Now, consumers expect the impact of COVID-19 to be long-lasting and are bracing for a new reality that affects many of their daily behaviors. Brands, too, have adopted a forward-looking mindset, even if the future they are preparing for looks unlike anything they've experienced before.
At the core of all this uncertainty lies the fact that we are living through an unprecedented pandemic—the root cause of which we still know surprisingly little about. I acknowledge that making predictions about how the rest of the year will play out is therefore a flawed exercise. But without a return to normal in sight, marketers must continue to use what information we have to strategize and adapt, adopting a flexible approach that affords us the ability to pivot rapidly to keep up with a world that's evolving at an unprecedented pace.
Here are my four recommendations for performance marketers as they prepare for the months ahead.
1. Focus on Retention
First, a bit about what we saw in ad inventory over the past months. As most of the U.S. shut down in mid-March, advertisers unsurprisingly decreased spend sharply and CPMs dropped to a low the week of 3/16. A rebound was initiated swiftly, however, and CPMs rose steadily WoW as marketers increased overall spend to take advantage of surges in digital audiences and the comparatively low costs. Though CPM rebound has been more V-shaped than anticipated, cost advantages still exist today compared to the highs in early March.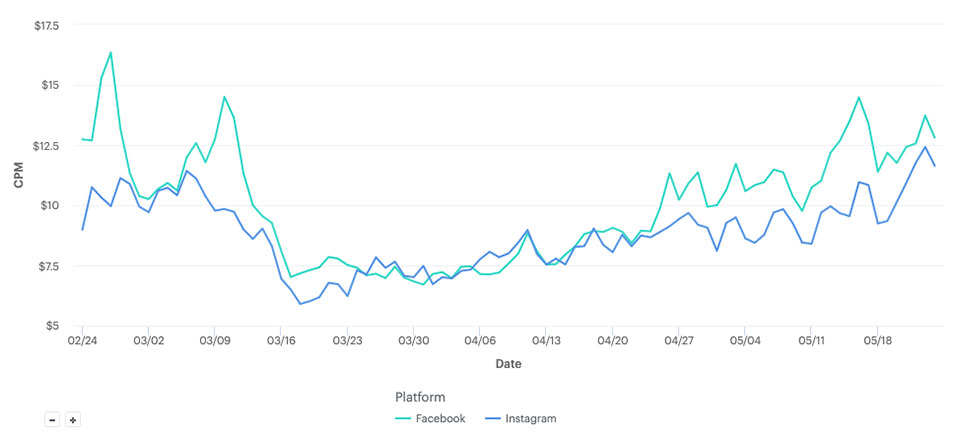 QuickFrame has been tracking the impact of COVID-19 on Video Creative & Performance at https://covid19.quickframe.com/ 
Consumers have been eager to hear from brands and many are still spending (albeit at reduced levels overall). In the relative chaos of late March/early April, however, many brands pursued short-term gains in a bid for economic survival. At the peak of this hysteria, I saw some companies offering sales as high as 70% off.
Brands must consider the potential long-term effects of these moves on performance marketing. Sales will be harder to make, and the LTV of the customers acquired during this period is likely to be lower than your typical customer.
Keeping this in mind as ad budgets are likely to ramp up in Q3 and Q4 is vital. Even if sales begin to rebound, LTV is likely to decrease. Retention should be a prime focus for the remainder of this year for all brands, even if you didn't operate a promo-heavy strategy in Q2. Work to increase repeat purchases of any new customers acquired and drive the retention of your loyal customer base through relevant awareness campaigns.
2. Experiment with New Channels
Low CPMs in Q2 have enabled performance marketers the ability to affordably experiment in new channels. Audiences have expanded, too. With most out-of-home entertainment options shut down, everyone was driven to TVs and personal devices, catalyzing consumption trends that were already in progress before the year began. TikTok seized everyone's attention (expanding its user base across a more diverse age range), streaming numbers hit record highs, and even Linear TV started trending upwards again.
Given the increase in audience size and relative affordability of ad prices across the board, we're likely to see performance marketers integrate new channels into their campaigns in Q3 and Q4. Over-the-Top Television (OTT) and Connected TV (CTV) give performance marketers tools similar to those available in digital placements: namely, data-driven targeting and measurability. And Linear TV is far less risky than before: DTC companies are already taking advantage of low TV ad prices to experiment outside of digital.
3. Invest in Your eCommerce Experience
As the pandemic has sent everyone online, we've seen an overwhelming shift to eCommerce spending. Increasingly, older customers are shopping online. According to MuteSix, there is optimism that this trend will hold—even in a post-pandemic world—now that these consumers have "experienced the ease of buying things online."
It's likely that the eCommerce space will continue to trend upward with this expanded audience, even as restrictions loosen and traditional retail opens back up. Brands that were able to pivot quickly to eCommerce in Q2 are likely to smartly stay the course— especially with the threat of subsequent waves of outbreaks and resulting restrictions. We'll also see brands across many disparate industries adopting the mindset of digitally native brands to build out comprehensive eCommerce experiences.
4. Prioritize "Value" in Your Messaging
The pandemic response required agility and many marketers met the challenge, quickly restructuring messaging to stay topical and meet newfound needs of consumers. Moving into the second half of the year, performance marketers should maintain fluidity in messaging and work to clearly convey their value props.
Consumers are growing tired hearing about the coronavirus. According to Google Trends, searches for "coronavirus" have decreased to pre-March levels from a high on March 15. This aligns with various reports from our industry over the past weeks. Last week, CNBC reported that according to VP of Agency and Media Solutions at Google and YouTube Tara Walpert Levy, COVID-themed ads performed no better than "straight-up ads" on YouTube in April.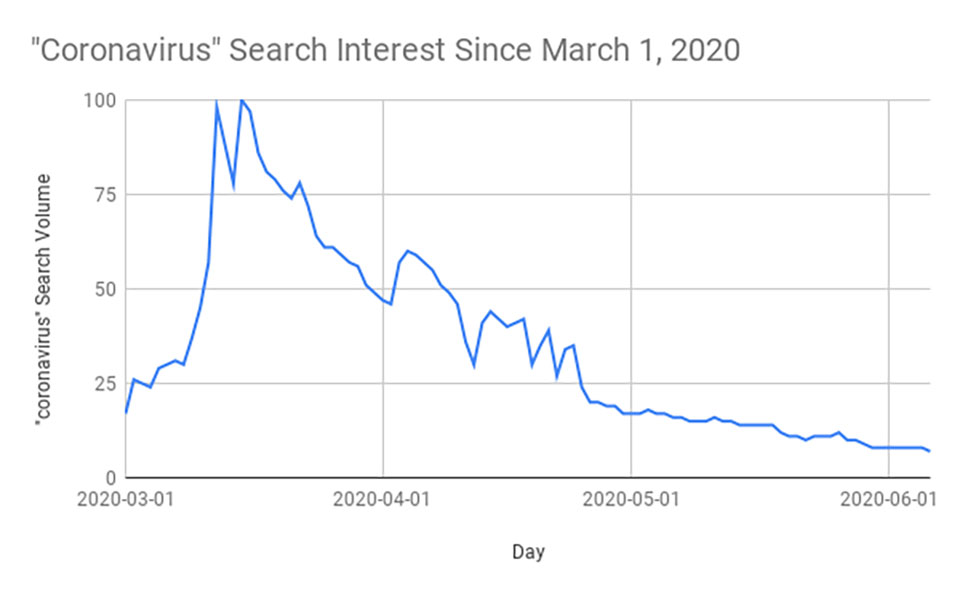 Consumers are thinking ahead, eager to move forward. As a society, we'll begin to reengage with aspects of our lives, though much will be permanently impacted by the coronavirus. We're undergoing a cultural reset of sorts, which allows brands to reintroduce themselves to both new and existing customers.
The second half of 2020 will provide a prime opportunity for brands to communicate their value to consumers that are ready to start building a new normal. Actively work to demonstrate your brand's vitality to consumers with simplicity and personality. Showcase your offering with direct messaging that conveys not only your value props but also gives the consumer a feel for your brand.
The Takeaway
The future is certainly uncertain, but it's not necessarily bleak. Many things are on the rise: consumer sentiment, eCom spending, and digital activity. As society works its way towards a new balance, many brands will have to return to fundamentals to rediscover their core value and then work to demonstrate it to consumers with clarity. A less competitive ad environment will also give performance marketers more options to experiment and expand their audience.