As coronavirus disrupts nearly every corner of the economy, the fledgling cannabis industry is a COVID-crisis winner.
States designated cannabis as essential, like pharmacies, hardware stores, and agriculture
Designating marijuana as mainstream during the crisis will help nudge Congress toward normalization
Legalization will expand among states
Nielsen predicts legal marijuana sales in the United States to quintuple from 2018 to 2025. This growing industry is a form of private-sector stimulus for ad agencies, media companies, and law firms.  Kantar Media tracking says 43 percent of cannabis ad spend went to out of home (OOH) media in the first four months of 2020.
Essential Business
State stay-home orders, intended to slow the virus, typically identified cannabis as an essential business.
New York State's Department of Health said medical marijuana businesses were "allowed to remain open because they are considered medical providers."
New Jersey deemed medical marijuana dispensaries essential businesses like grocery stores and gas stations. California listed cannabis twice, as essential healthcare and agriculture.
"We need to ensure medical marijuana patients have access to medication," said Pennsylvania's secretary of health. "Medical marijuana grower/processors and dispensaries are considered life-sustaining businesses under the governor's order . . ."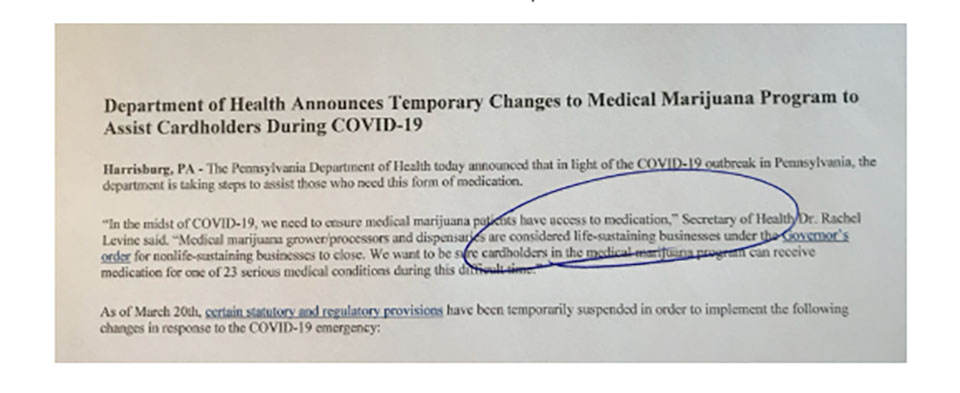 Montana Governor Steve Bullock listed licensed medical cannabis dispensaries and cultivation in the same paragraph with organizations collecting blood and selling eyeglasses.
Marijuana is legal for medical use in 33 states; 11 states allow adult-use recreational pot. State designation of cannabis as essential is another step in the migration of marijuana from outlawed to mainstream. Two-thirds of Americans support legalization, according to Pew research.
The COVID crisis, in addition to identifying cannabis as an accepted commodity, also spotlighted the tension between state legalization and federal illegality. As Congress rushed billions in stimulus relief to stressed businesses, cannabis enterprises watched on the sidelines . . . ineligible for safety-net assistance because marijuana is a federally controlled substance.
This federal-state dichotomy extends to banking and taxes. Cannabis companies do not qualify for standard business deductions from the Internal Revenue Service and typically are shut out of interstate banking and financial services.
Advocates for marijuana say state designations as essential business cast the harsh federal treatment of marijuana as outmoded and unfair. The industry has made progress in Congress toward banking reform, but final passage remains an uphill climb.
Meanwhile, legalization at the state level will grow. Voters in Mississippi, New Jersey, South Dakota, and probably more states will decide this fall whether to expand legalization.
State budgets were strained prior to the COVID crisis by weighty costs for healthcare and pensions. Now states face higher unemployment and less than expected revenue due to business closures and declining proceeds from taxes on income, sales, and fuel.
Cannabis taxes and fees are new, growing revenue streams.

Conclusion
Expect more legal cannabis . . . and more related debate about workplace standards, driving safety, and potency levels. These discussions, which mirror previous debates when alcohol transformed from illegal to legal, will take place in the context of state after state declaring cannabis as essential.