For digital technology manager Will Davies, the best stories channel classic themes: "Life, love and happiness." Patients' pursuit of these essentials is core to stories Davies and his team feature in the hit series Chasing the Cure from Lionsgate Television, B-17 Entertainment, and Motiv8 Media, which premiered in early August on TNT.
At a time when medical advancements make so much possible, it's hard to imagine that there are scores of Americans suffering from undiagnosed, misdiagnosed or uncured medical conditions. What does it mean to live with a mysterious medical issue? The series chronicles patients enduring puzzling ailments as they meet with a panel of top doctors who aim to understand and diagnose issues ranging from the odd to the life-threatening.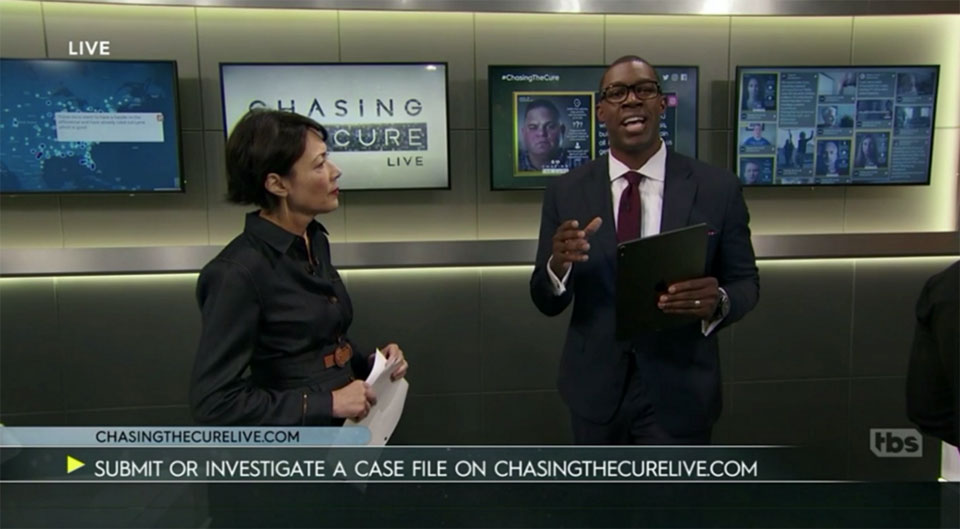 Chasing the Cure also takes an innovative approach to interactive storytelling – using crowdsourcing to identify case files to spotlight on the show. To discuss this trend in more detail, I recently chatted with B-17 Entertainment's Will Davis (see our full podcast interview here).
By forging a community around people with a shared experience of living with a lack of medical diagnosis or access, Chasing The Cure is creating a new experience for viewers. A new kind of storytelling, where the lines blur between what is mobile, streaming and linear TV. The patients' stories don't stop at the weekly broadcast. Their conversations reverberate beyond the show as patients, audiences, friends, and followers become each other's support and information network.
Fostering community
We've seen all of your suggestions and well wishes. It's because of your comments of support that our patients have found hope and optimism as they embark on their path forward. Thank you all for your help and support! #ChasingTheCure pic.twitter.com/NoZwEDsxek

— Chasing The Cure (@ChasingTheCure) October 18, 2019
Chasing the Cure, produced and hosted by Ann Curry, is more than a feel-good show where medical problems get resolved in the tight span of a programming slot. It's a community that invites viewers to interact across social media platforms, a Facebook group, and a dedicated website. This way, users can pursue their own cures, using the network the show has fostered for guidance and help; it becomes their support group, resource, and community. There they can also review patient case files and submit their own. If they don't make it on to the show, they can still participate and interact with other viewers within the community.
The show's use of crowdsourcing, as a means to foster community engagement is a growing trend, with Netflix also debuting Diagnosis in late August, a show that is similar in its approach and subject matter. Chasing the Cure invites a panel of doctors and medical consultants, plus a global audience, to participate in solving medical mysteries. The audience can participate by calling, texting or engaging through social media. Together, the audience aims to help target a real-time explanation.
The show focuses on how connections can help marginalized patients understand their medical issues and can shed light on the medical challenges complicating their lives. "The show was such an interesting concept" Davies explains, "especially with healthcare being the way it is in this country. And sort of seeing a connective line between so many different patients and the things that they needed." Davies shares.
B17 Entertainment produces some of the biggest and most interactive shows in the world, including Chasing the Cure. Veteran journalist Kim Bondy serves as showrunner and executive producer, and Davies works on her team.
Davies was instrumental in connecting producers, hosts, and doctors with patients via social media."I was very proud to be part of the show and God willing, we get another chance to do it and just and change more lives and try to just do everything that we can for the people who need it, the people who maybe don't have the benefit of living in a very large city where hospitals are abundant" Davies shares.  "And it was very interesting to see how quickly we could find connections through the social media platforms and figure out what people needed."
Forging connections and changing lives
Watch Rori's heartwarming reaction to her former students' message of support. pic.twitter.com/7io2Loux9I

— Chasing The Cure (@ChasingTheCure) August 9, 2019
The show runs deep because it's driven by a worthy mission. It brings attention to the desperate issue that many Americans face: what to do when the healthcare system leaves them behind. The producers use their powerful resources and network to help those who have reached medical dead ends to pursue the information and answers they need to begin healing.
"Businesses play a powerful role in enabling change through innovation, collaboration, and purpose-driven leadership," said Marc DeCourcey, Senior Vice President for the US Chamber of Commerce Foundation. "I commend Warner Media and Chasing the Cure for driving this world-changing idea, and harnessing the collective power of individuals and communities to overcome obstacles and transform lives."
Davies feels this transformative power in his work as well. "You're talking about people who are in pain, you're talking about medical mystery, you're talking about things that sometimes very much I think either frustrated or are hard to speak of. And behind the scenes, just getting to build this incredible relationship with all these different people who were in it for the exact same thing. Can we make a difference? Can we enrich somebody's life through this crazy idea of a program? And I think we did."
Reshaping stories
This season on #ChasingTheCure, patients found answers to their toughest questions, families were reconnected, and new friends were made. Together, we have created a community of support where you can bond and share your personal stories. Thank you all for being a part of it! pic.twitter.com/08ZghxBPQY

— Chasing The Cure (@ChasingTheCure) October 19, 2019
Chasing the Cure involves a new approach to bringing the audience into a story that's unfolding in real-time. As that story breaks open, it elicits reactions and responses from a community that is invested in the story and its outcome. They are helping to shape it as it unfolds.
While the story is being experienced and constructed on multiple platforms, Davies explains: "it's still storytelling at its core."  This approach to story shaping and sharing works in such a powerful way with the subject matter, because these are the patients who need this community because they're patients most doctors don't want to see.
Once they're relegated to the realm of misfit patients, they get ignored and even blamed for the ailments that render them different. In this space and in this community, however, the castaways have found a place where they get to matter. This community gives them the support and resources to pursue what really matters to them-their diagnosis and their cure.