Perhaps humorless in the debates, Mike Bloomberg's one-liners pop up on billboards.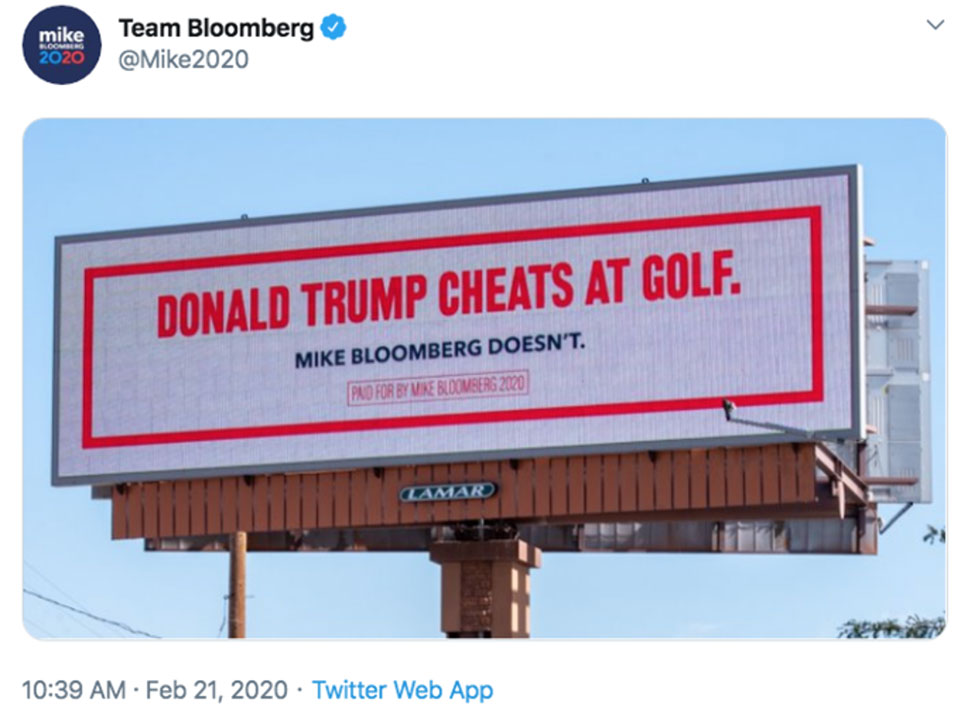 Posted February 26 in Colorado: "TRUMP SKIS IN JEANS" appears on digital out of home displays, tapping into local (niche) humor about ski-fashion faux pas.
In Las Vegas and Phoenix, Bloomberg billboards trolled Trump rallies, mocking the president's golf game, eating habits, financial acumen, and wall at the Mexican border.
Putting politics aside, Bloomberg's copywriting is classic: brief, punchy, legible, and high contrast.
Political ad spending on out of home media is increasing, according to Kantar tracking. Lamar Advertising CEO Sean Riley predicts a bump from the political category in 2020. When Congressman Jim Clyburn (D-SC) endorsed Joe Biden for president, Clyburn mentioned billboards.
Bloomberg's unprecedented multi-media ad campaign veered into out of home as voters await the pivotal March 3 "Super Tuesday" primary, which is likely to winnow the Democratic presidential field. His messaging combines self-promotion and criticism of President Trump.
On February 21, three Bloomberg messages began appearing on digital billboards in Utah (a Super Tuesday state), claiming Bloomberg beats Trump in head-to-head polling, Bloomberg would "End the Chaos," and Bloomberg is a steady, proven leader.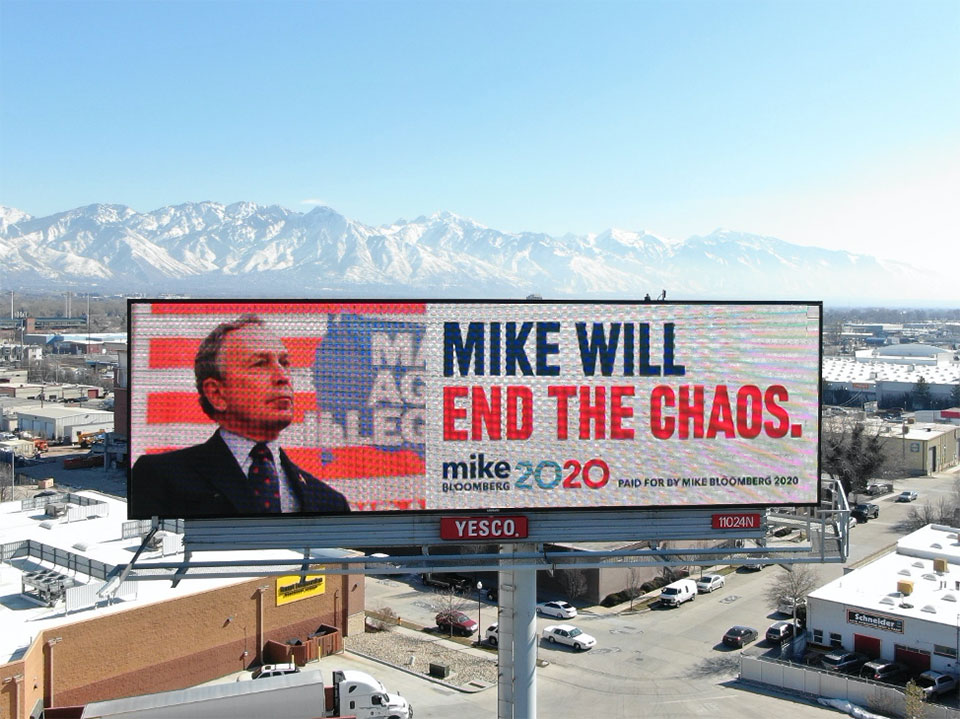 (photo by YESCO)
Bloomberg's OOH messaging is localized to a degree; his ads about Trump's golf game were near plenty of golfers and golf courses.
In ski country, fashion humor is a deep cultural taproot. Colorado-based Grist Brewery produces "Skiing in Jeans Bock," described in the ski press as a badass lager.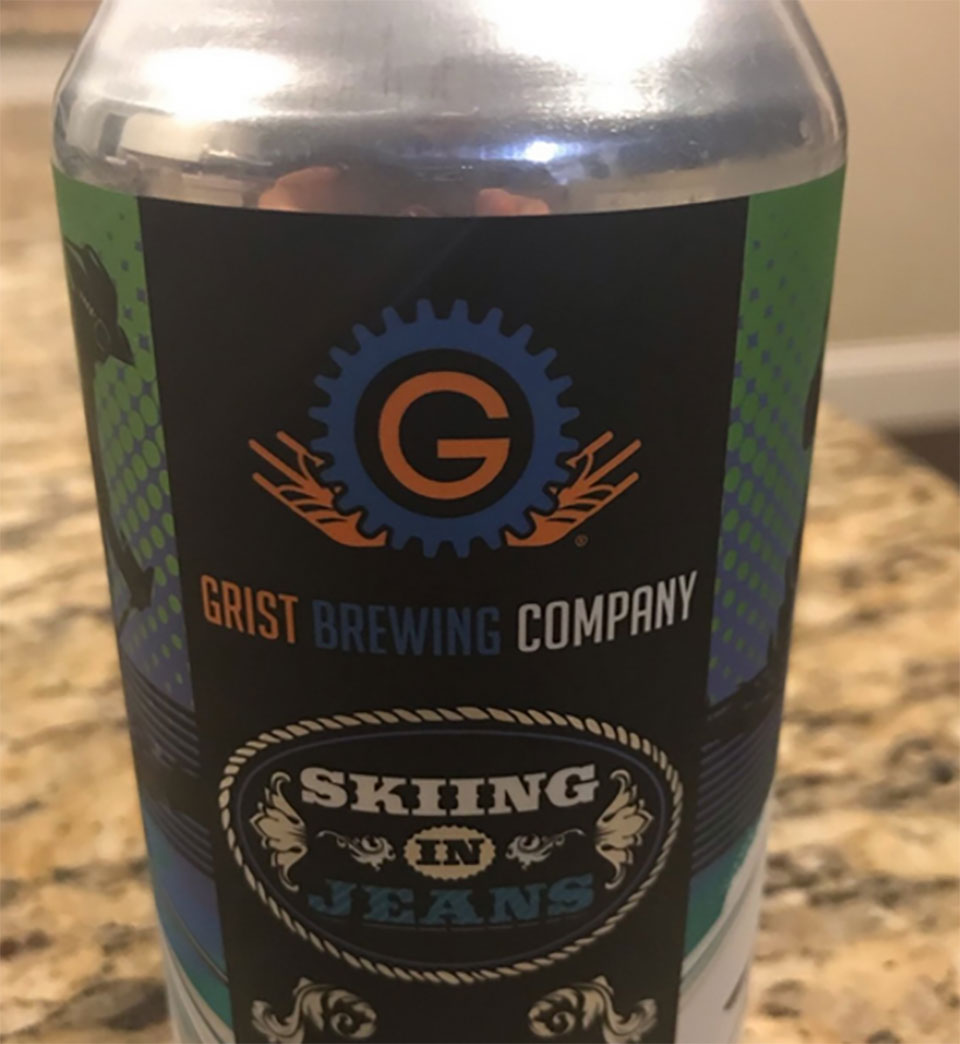 "Once in a while," writes blogger Johnathan Holmes, "you will come across people skiing in jeans," which he describes as a "big No-No!" He cites inadequate warmth as a practical problem.
Britain's Daily Mail cited an airline poll that ranked jeans as the top ski-fashion mistake. Bloomberg's current slam on Trump skiing in jeans had already ventured into the political realm.
Leslie Anthony, writing in Powder Magazine, recalls "Cheney Skis in Jeans" stickers and a "Romney Skis in Jeans" sign outside a presidential debate in 2012. The point, says Anthony, is that these people are too uncool to lead.
But who gets the last laugh? After Trump won the White House in 2016, one ski commentator/spoofer suggested that the number of skiers in jeans went up.
Leslie Anthony, in Powder Magazine, says skiing in jeans is the opposite of weakness, symbolizing I-don't-care confidence "meaning that you care more deeply about the experience than its accouterments – a decidedly radical statement."
Let the voters decide.