The public spoke, the media critiqued, and the "winners" and "losers" of the biggest US ad event on TV crowned. From generating the loudest social media buzz or the biggest emotional reaction, to earning the best opinion among ad critics, Super Bowl advertising is a core event in the marketing calendar. But with TV ad spots costing over $1.6 million per second, what brand marketers need is an advertising opportunity that can not only maximize, but also extend brand awareness.
With 30 second ad spots costing advertisers over $5 million, Super Bowl LIII saw ad spend soar, while viewer interest dropped. For marketing teams to ensure those big budgets aren't wasted they need to know how to optimize ROI for future Super Bowl campaigns and guarantee viewers are constantly enthused by advertising spots. But generating consumer response is only the initial step when considering the success of an ad, as on-going impact is also needed to drive the effectiveness of any campaign.
Advertisers Need Creative Tactics
This year, the content that drove the greatest online response during the Super Bowl followed humorous, irreverent or flat-out unusual themes. For instance, Michelob Ultra's "robots miss all the fun" ad helps demonstrate how to effectively utilize the artificial intelligence (AI) and tech-centric ideas of the Super Bowl LIII. Or how the Mercedes Benz's light-hearted ad helped to add flavor with celebrity appearances.
With the tense political climate of 2019, viewers' "controversy fatigue" likely played a part in their engagement with more carefree ads. Incorporating such climates guarantees a buzz for advertisers, but the tactic is to understand how to position messaging to consumers. Something Michelob Ultra and Mercedes Benz's successfully achieved.
Pre- And In-Game Strategy
The value of pre-game buzz is evident in how brands generated response through ads like Skittles: The Musical prior to kick-off. Stella Artois' "Change Up The Usual" ad drove the biggest percentage uplift and longest consumer engagement across the alcohol marketers, with interest not returning to baseline levels until 30 minutes after the ad spot aired. The brand's strategy struck the balance between pre-game buzz and in-game curveballs – releasing teasers beforehand, then surprising viewers with additional ad elements on game day.

Know Your Side Of The Field 
Alongside the "dos," advertisers must be aware of the key "don'ts" to refine their ad effectiveness. For instance, the "Is Pepsi Okay?" ad name-dropped their biggest competitor in the soft drink space, which completely backfired. Coca-Cola not only drove a greater percentage uplift in-game but also a longer engagement time, no doubt aided by Pepsi's direct reference.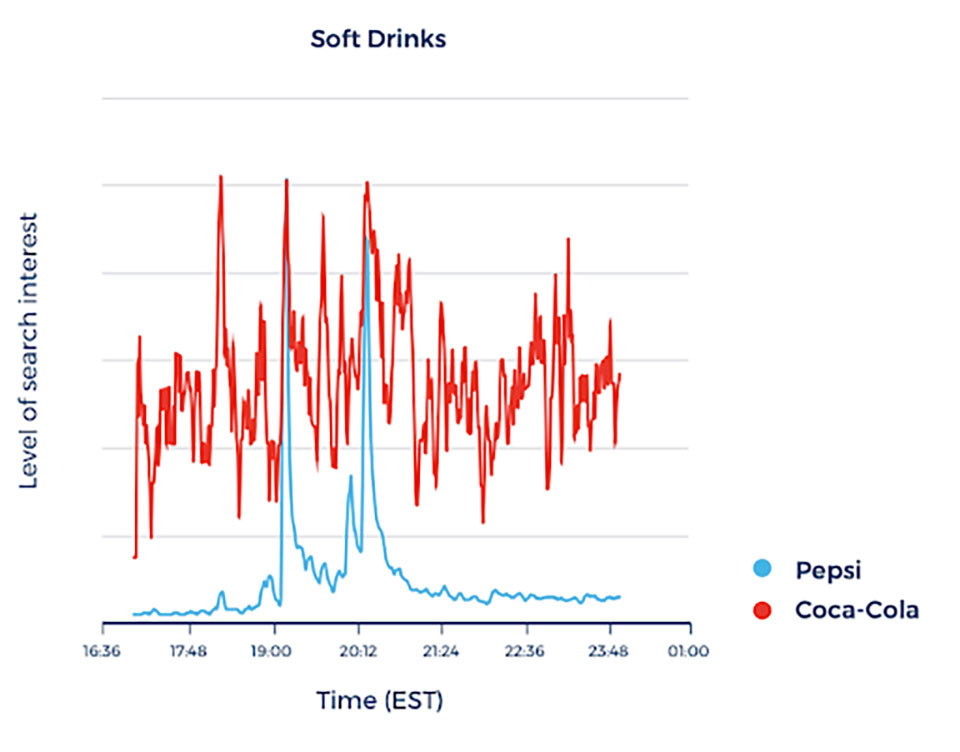 Bud Light's dig at "corn syrup" in its Game of Thrones ad sparked controversy that generated interest for rival brands, with the CEO of MillerCoors going so far as to call the campaign a "gift," however the company is now pursuing legal action. It's a daring move to call out brand competitors, and the resulting data insights prove that more often than not, it's a counter-productive move.
Game Analysis
So for this year's game we know the "winners" and the "losers," but let's talk tactics for future planning:
Player Positions: Advertisers should be thinking beyond the "what, when and how" of TV attribution. Instead they can look at data that is offered to them through digital, including behavioral and demographic insights to target prospective audiences as well as loyal watchers. By adjusting their position, advertisers can be sure that their ads will drive the highest scores. 
Time To Huddle: TV impacts 100% of a company's business, so teams need to come together to use both probabilistic and deterministic attribution to understand the long and short-term effects of advertising campaigns in this landscape. Advertisers can combine strategies by using respondent-level and impression-based data to have a broader understanding of consumer response patterns to be able to target them suitably.
Dual-Threat Quarterback: Online and offline channels need to be working together to achieve efficient marketing. Teamwork is vital in the TV industry so by syncing paid search with television spots – whether capitalizing on their own campaigns or even run alongside a competitors' slot – advertisers will have better knowledge on what is working.
The Final Score Card: Don't ignore the long-term impact of TV advertising – it's a channel that drives long-term brand awareness and the value or "game results" are evident over the months following a campaign. Measuring the results of a TV spot the day after it was aired won't show the complete picture. Marketers need to make sure those Super Bowl big bucks make it to the end zone by measuring the success of an ad across a longer period of time.
The Super Bowl LIII data shows that ads don't have to be serious when it comes to content, but they do have to have be backed by strategy. Lasting consumer impressions are instrumental to ensuring optimized ROI when ad campaigns are linked with major marketing events. To score a "touchdown" for the Super Bowl LIV, advertisers need to contextualize their content and broaden their campaign strategies beyond the in-game ad spot.