From being rejected from the industry training program and writing ads for housing estate developers in Brisbane, to creating epic campaigns for Old Spice and an ECD role in New York. Pippa Chambers charts the incredible journey of 72AndSunny's Justine Armour.  
Despite knowing what she wanted to do from a very young age, Justine Armour's ascent to the upper echelons of creativity in New York City was hardly written in the stars.
Coming from a big family (with no less than 55 first cousins), she blazed a trail among them as the first to attend university. But with big things envisioned for her future, appeasing her parents proved a challenge.
"My parents really wanted me to do something smart with my education and set myself up with a career I could rely on financially because we weren't always flush as a family," Armour says.
"Advertising was a compromise I made with them. Studying business comms was the door I took into copywriting because I needed my parents' support and it was a way to keep exploring my creativity."
If at first you don't succeed…
After relocating from Adelaide to Brisbane, a role at McCann-Erickson was Armour's first ad agency job after university, in 1998.
Positioned as an internship, she said in reality it was answering the phone and doing mind-numbing accounting tasks for a meagre AU$18,000 a year.
"I basically sabotaged the job after nine months, forced my way off the front desk and started copywriting ads about tract housing and naming the streets in planned communities," Armour explains.
"I completely fell in love with agency culture and the people at McCann. I really wanted to be in the creative department, but I sucked for many years."
Armour, who was rejected from Australian creative training program AWARD School twice, said she was always a writer. Penning poems, letters, plays, notes, essays and writing headlines and TV scripts was just another form of what she'd always loved doing.
However, she soon became stuck in a rut, writing about three-bedroom houses.
"I sucked every time I got a chance on another brief because I was so desperate to make an ad about something else that I could not loosen up and access my creativity," she recounts.
"I was jealous of everyone who was a real creative. I thought it was everyone else's fault for not giving me a chance, but in hindsight they did give me a lot of chances. Sometimes you just have to move to another place and hit reset on yourself."
Moving up in the world
Known as the best agency in town, Armour moved to Clemenger BBDO Brisbane after more than two years at McCann.
It was the first time she had a young female partner, in art director Natalie Ambrosini, and the two hit the ground running, working on big brands like banking group Suncorp.
"I finally got to make a TV ad and it was so exciting – to write a script and then 10 trucks would show up and a cool director would shoot it. The whole thing made you feel like an artist," Armour says.
"I fell in love with making things for the screen and I still love it. Sandy Peacock was the creative director (CD) – he was a former journalist and he cared about copy craft and ideas with depth. He was funny and patient."
Armour said Peacock, who held the CD role at Clemenger Brisbane for a decade before relocating to Sydney, spoke a lot about how wonderful Sydney was. This cemented Armour's next move to Clemenger BBDO Sydney.
Dealing with Adland's boys' club mentality
Armour's observations of the top CDs and executive creative directors (ECDs) in the late 90s and early 2000s was one of inequality. While the ratio of women to men varied from agency to agency, there were always far fewer women in the creative departments – "where the ideas were being formed and therefore where it mattered".
"I definitely saw all the clichés play out, but it's boring to repeat those now, especially as I sit here in my office looking out at the New York City skyline.
"It feels wrong to complain that I was somehow held back by a sexist culture. But that sense of not belonging in the boys' club, it just made me try harder," she says.
Fast-forward 20 years to the present day, and Armour said varying perspectives are far more in demand and are more valuable than ever, especially if you have experience.
"People really understand that creativity needs diversity. You need different brains coming from different experiences with divergent ideas."
David Nobay and creative weirdos
After more than five years at Clemenger Sydney, Armour was drawn across town to Saatchi & Saatchi.
Reporting to well-known ECD David Nobay, Armour said the agency had won Agency of the Year awards a few years running and were creating good work on brands like Tooheys and Toyota.
"I wanted to be at a place where winning awards mattered. I really wanted to make a name for myself as a great copywriter. While I didn't quite do it there, it was the most creatively driven agency I'd been at so far."
Nobay recalls his days as ECD of Saatchi & Saatchi Sydney with fondness.
"Yes, we got onto a bit of a hot streak creatively for a few years, but more than that, we somehow managed it while laughing a lot. And, without any doubt, one of the brightest, funniest voices in the room was invariably Justine," Nobay recalls.
"She possessed a laugh that was infectious and a sheer tenacity that could twist the flattest brief into a creative opportunity that she consistently pushed far beyond its apparent limits."
Nobay recalls a Foxtel campaign to lift subscriptions which was essentially a standard retail brief: "But Justine elevated it to a genuinely bizarre but wonderful campaign. When I saw what she did with Old Spice at W+K years later, I recognised that same eccentric and obtuse, but strategically precise, humour in her writing."
In 2008 Armour upped sticks for a copywriter role at Publicis Mojo Sydney. Again, Armour attributes the move with being inspired by another creative, then-Mojo ECD Micah Walker.
"He was such a weirdo and would talk about the craft and the work in a way none of my Australian CDs had before," Armour explains.
"He was more like an artist than a CD. He made really beautiful, whimsical things on brands like Orange in the UK and I just got the sense that joining him at Mojo was going to be all about the work."
Walker, who is now co-founder at independent ad agency Bear Meets Eagle on Fire, says Armour holds a special place in his heart, as a friend and as a creative.
"I first met her when she joined my department at Mojo years ago. I had just come back from London and she was a promising senior writer. She was smart, driven and she could work on anything," he says.
Walker believes a lot of people get promoted too fast and for the wrong reasons, but said Armour has truly earned her place.
"She's genuinely talented, comes fully armed with a wicked sense of humour and worked her arse off."
And it certainly wasn't easy in Armour's early days at Mojo. Overall she describes the experience as "a tough four years" which saw her not make a single thing for the first two.
But after this lean start Armour hit her stride, creating work on the highly-praised Knight Rider-themed spot for Hahn SuperDry, and the Pure Waters campaign for James Boag's.
https://youtu.be/Ubyvz9cbZFU
The Hahn SuperDry ad went on to win a gold in the Film Lions at Cannes.
An offshore odyssey begins
Still feeling like she hadn't produced her best work as a creative, Armour said she made a leap for the US as she wanted to experience "the best briefs and every opportunity to make the best work in the world".
In 2011 founding partner of Droga5 Australia, Sudeep Gohil, introduced Armour to Wieden+Kennedy (W+K) global talent director Melanie Myers. This meeting saw her promptly bound for Portland, Oregon for a senior writer's position, which later morphed into her first full creative director role.
Gohill said he has known and worked with Armour for a number of years, starting back at Saatchi & Saatchi Sydney.
"When the W+K crew asked for creative talent they should be talking to in Australia, she was at the top of my list and as soon as she met Dan, Susan and Mel, they understood why I was so enthusiastic in my recommendation. From that point on her rise has been rapid, epic and well deserved," Gohill says.
At W+K Armour notes the Old Spice Momsong as one of her favourite pieces of work. The new Old Spice Re-Fresh Body Spray ad saw boys become men, girls become girlfriends, and mums become sad.
"We were so scared to make the first bad Old Spice ad that we obsessed over every detail in this campaign," Armour recalls.
During her nearly five years at W+K, Armour also counts her work on P&G's deodorant brand Secret, as group creative director, as a highlight.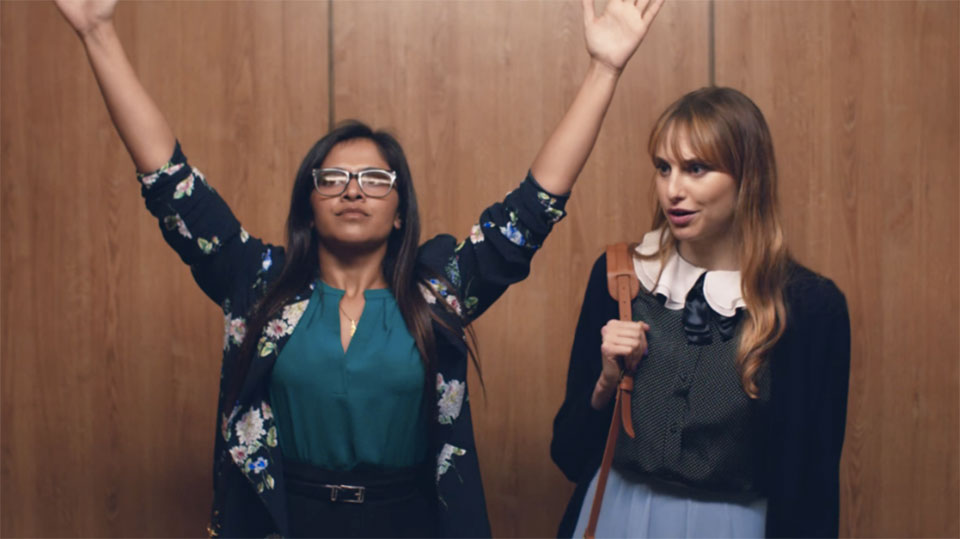 The Stress Tested for Women campaign highlights new roles millennial women face in society by showing scenarios where "stress sweat" arises.
Armour said an ad campaign acknowledging female stress really resonated with people.
"My first campaign as a CD was coming from a very personal place," she explains.
"We got a lot of emails and notes from young women about this."
On comparing working in Australia to the US, Armour said it is "different in every way".
"There are so many more roles and specialisations and so many people making life easier for you to do your best work," she adds on her US experiences.
"It's quite competitive too. Nobody wants to be the team making bad work."
In 2016 Armour left W+K for agency life in New York. After meeting with eight agencies, it was 72andSunny that won out for her.
"I wanted to be part of building the next great New York creative company. I loved their vision and hustle and I felt like I could learn so much there, and that's all come true. I feel so proud of this place and we're killing it right now," she said.
After starting as CD, in 2018 Armour became ECD.
The journey so far
Looking back at her career path to date – with 14 years as a copywriter before becoming a CD – she might perhaps have held herself back more than others did. She jokes that after her AWARD School rejections she may well have had impostor syndrome for 21 years.
But Armour is quick to point out that there's no right or wrong way to climb the senior creative ladder as a woman and that "the work always speaks for itself".
"You're not going to argue or sell yourself into any creative position worth having, it can only be because you made wonderful things over and over again," she says with purpose.
Armour acknowledges that women in ECD positions such as herself are rare and while 72andSunny has female creatives, it is creative leadership across the board that needs attention.
"It's still too thin. Agencies are still recruiting talent from each other, rather than investing and promoting from within," she says.
Armour, who can't imagine doing an ECD role part time – a benefit that would see more senior creatives return to work after becoming mothers – also argues that clients need to make space for people in top creative roles to have lives and families outside of work.
"It will happen when clients demand women and mothers are leading their work," she adds.
Is the Big Apple the final bite?
Armour says the US is her home for now and has no plans to return to Australia.
"I'm honestly never satisfied. I tick one box and then another one appears," she laughs.
"Besides wanting to make the best work in the world, I am not sure what's next as it's still all I want, but now I have a huge team that I get to do it with.
"My advice is to always come to work as a learner, play loose and have as much fun as possible. It's a ridiculous job, we are so lucky to get to do this for money."