Consumer marketing is undergoing a massive transformation. Upstart direct-to-consumer (DTC) brands are challenging the status quo with strategies that rely heavily on digital channels to package products and experiences for consumers.
What are "DTC companies"?
DTC or Direct-to-consumer means you are selling products or services directly to the end customer without third-party retailers, wholesalers or other middlemen.
Why should you care?
These companies are shaking things up in very important ways. The below statistic reflects the expectations to purchase from direct-to-consumer companies in the next five years according to internet users in the US. Overall, 36 percent of respondents stated that in the next five years they expected to purchase 1 to 19 percent of all purchases from direct-to-consumer companies.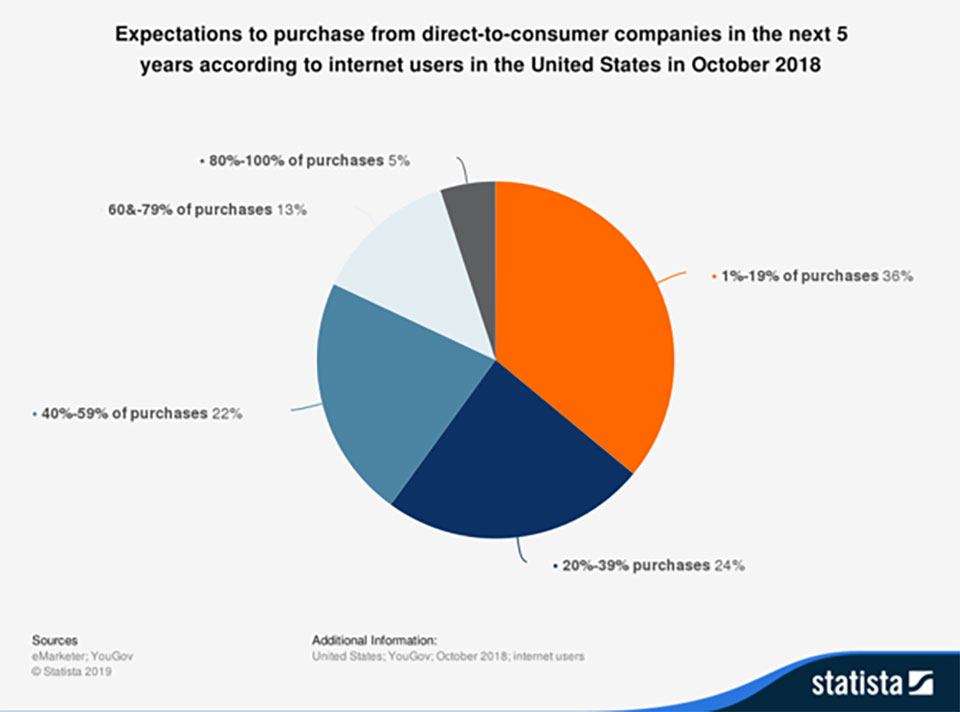 Further research shows the contribution of the Internet Ecosystem to the US GDP revealing an even clearer picture as to how important this approach has become.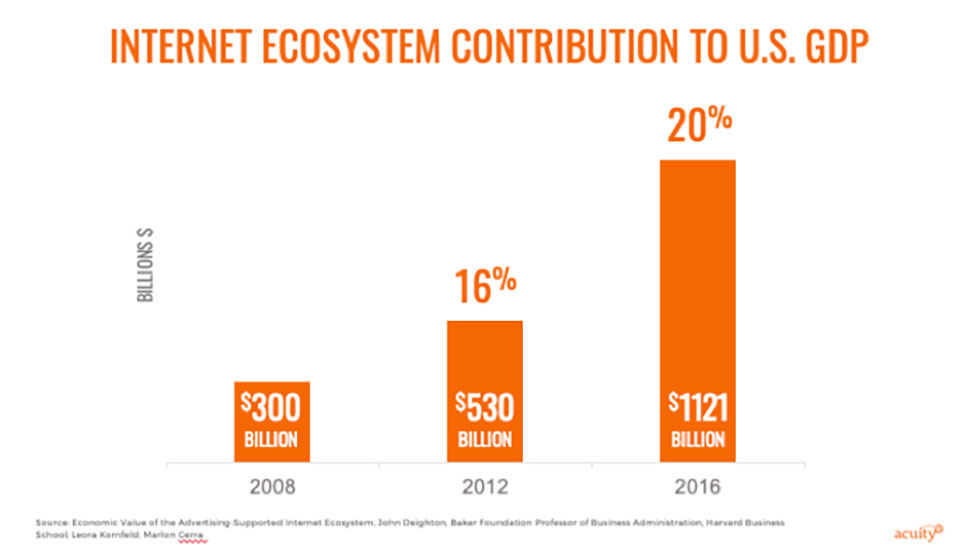 Categories from shaving products, sneakers and contact lenses to beauty products present incredible examples of small, up and coming shops who are stealing enormous chunks of market share from traditional retailers, leaving them wondering how they did it!
In our upcoming Advertising Week New York session, Digital Transformation of Consumer Marketing, we are thrilled to present you with the foremost thought leaders from DTC businesses. For today though, we'd like to provide you with some of our high-level findings regarding critical success factors common to these brands today. The DTC sales model introduces a new approach to connecting with consumers: by streamlining the supply chain and shipping directly to the consumer, brands are able to offer lower prices while maintaining control over distribution and marketing. Furthermore, they are able to harness highly detailed first party data based on consumption and interaction habits, personalizing communications and offerings. Here are a few ways DTC companies are making magic:
What can we learn?
Keep it simple
By limiting choice, a brand can cut through the clutter to offer audiences their version of "the best." Nectar began selling the perfect mattress (making $35M in less than one year), Bonobos started with only one pair of men's pants, and Harry's sold one type of razor with five blades plus one for trimming. By focusing selling efforts on a single or small number of products, brands can easily make adjustments and tweaks from consumer feedback without having to ditch inventory, start over, and eat the costs.
Find Inventive Ways to Break through the Market Noise & Clutter
In 2019, Nectar grew faster than all online retail companies (including Amazon, Apple, and Walmart). With a 525% growth rate in 2018, Nectar is not only the fastest growing online mattress company; it is the fastest growing online retailer of any kind. A great product doesn't sell itself, especially not in the hyper-competitive online mattress industry. Nectar has been extremely creative and aggressive in their marketing efforts. Their 'Make America Sleep Again' video ad, which features cameos from Putin, Kim Jong-un, and Trump, went viral and currently has over 14 million views on YouTube.
Jeff Raider, Co-Founder of Harry's, stated "We saw a situation in which people were paying lots of money and they didn't have to — sometimes the cost of making something is quite detached from the cost of purchasing that thing. I think about disruption as being a way to innovate and so blatantly change things for the better that you become an industry standard. That's what we're after." Their advertising strategy was simple: a waitlist. Users could sign up for the list, but those who shared the campaign with their friends and social networks would get all kinds of prizes for doing so, from free handles to razor blades to pre-shave gel. 100,000 people signed up, kickstarting the successful razor company.
Solution sell
Audiences are looking for brands that fit their needs and habits. In today's fast paced world, the subscription model has provided a way for us to access products at a lower price, while also providing the convenience of never having to leave our homes. Take 'shopping for a razor' for example. Combing through drugstore aisles every few months to find the product, asking an employee to unlock the case to give you the razor and then selecting from a vast array of brand choices from "turbo" to "mach" only to make a half-educated decision. With Harry's razor subscription service, consumers have a limited selection of awesome products delivered to their door on a schedule that works for them.
An estimated $75.38 billion will be spent on pets in 2019. Barkbox taps into the dog-lover demographic with a monthly delivery that includes a selection of treats and toys for any furry friend. Pet owners not only benefit from a curated selection of products that saves them from having to sift through the oversaturated pet supply market – they're also saved a stressful trip to their local pet store.
Build an Efficient Acquisition Engine
Develop a test and learn approach to customer acquisition by testing a wide range of online channels – Search, Social, and Programmatic Advertising – and selectively offline channels like TV and addressable variants like CTV/OTT to broaden audience reach and awareness while optimizing the cost per acquisition and ROI on marketing investments. Part of building a long-term, profitable business is to own the customer relationships and data to allow for identifying and retaining the high life-time-value customers to help you amortize the high, up-front cost of customer acquisition.
Join us at Advertising Week this September 25th at 11AM ET for an amazing exploration of this hot button topic with our Chief Strategy Officer, Seraj Bharwani and his star studded panel including Gil Efrati (CMO, Resident), Stephanie Urban (VP Ecommerce, Tarte Cosmetics), Julia Fitzgerald (CMO, American Lung Association), and Kip Olmstead (President, Genomind).