By Kya Sainsbury-Carter, General Manager, Partnerships, Microsoft Advertising, and MJ DePalma, Head of Multicultural & Inclusive Marketing, Microsoft Advertising
This year has certainly challenged all marketing leaders.  Economic uncertainty, health and safety concerns and inequality and social injustice have changed the dialogue brands are having with people, and what people expect from those brands.  For some marketers, priorities have changed from growing to surviving – the journey they've created for their customers must be reinvented completely. For others, opportunity and opportunism start to look dangerously similar as they face new questions about what's the right thing to do in the face of change. In either case, plans and budgets go out the window – even whole business models. And yet, when the realities of business-as-usual are changing in unprecedented ways, there is still that tangible, powerful, and persistent thing called purpose.
Purpose drives measurable increases in brand performance
The definition of purpose is "the reason for which something is done or created or for which something exists."  What is your company's purpose? Does it align with what people believe in and what they value?  Is it reflected in everything you do from your employee relations to the products you build to how you demonstrate it in your marketing and advertising?  The answer is – it should be because we have proof that it can drive measurable brand and advertising performance.
When we talk about being purposeful as marketers, we often think about the values we strive to represent in our ads, the causes that we can support, and the shared outlook that connects us to our customers. But it's easy to see purpose as something intangible and indefinite. Something that you pursue after you've taken care of business-as-usual.  Before 2020, many marketing organizations were at various stages of their journey of purpose-led marketing.  Microsoft Advertising has been supporting our clients on their journey through research, inclusive marketing strategies and insights from Microsoft's own experience.  That work led us to dig deeper with additional consumer research on the impact of trust and inclusion on advertising and brand performance.
In our consumer research studies on Accelerating Brand Performance through Building Trust, Increasing Brand Love and Loyalty and the Psychology of Inclusion and the Effects in Advertising, we found that purpose-led brands are more trusted and loved, and trust is critical to purchase consideration.
85% of consumers say they'll only consider a brand if they trust the brand.
Our research also showed that as trust in a brand increases, so do people's expression of love for that brand.  Brand love becomes loyalty when people see your brand 'stand for their beliefs' and are a brand 'for someone like them'.  The key brand attribute to making progress towards loyalty is being genuine and authentic.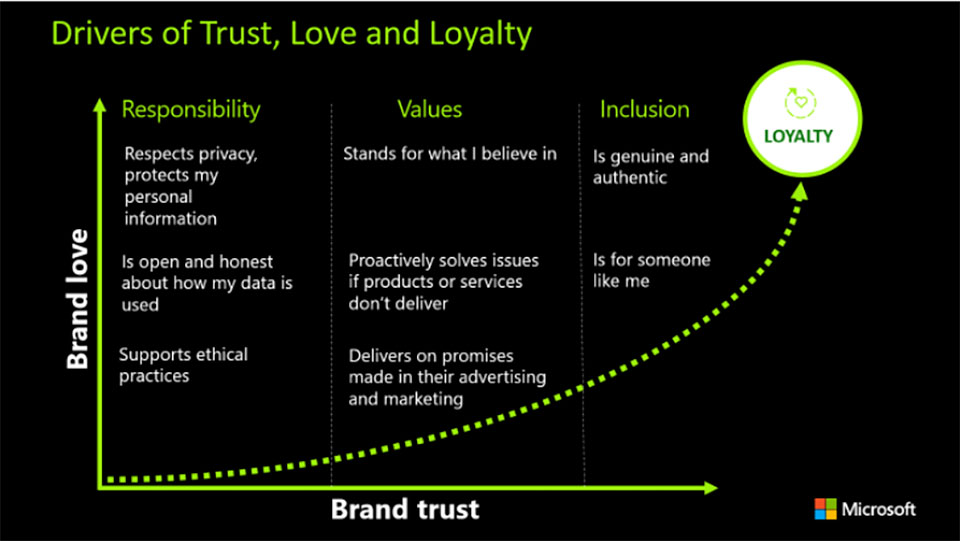 "Is genuine/authentic" was rated as a top brand attribute in building brand trust, love, and customer loyalty. Source: The Acceleration of Brand Performance through Trust, Love, and Loyalty. Microsoft Advertising Research 2019.
What this means is that inclusion needs to be the guiding principle that inspires companies to re-evaluate their products, services, and experiences for all people.  It's a mindset shift from being product-centric, viewing how your products and services appeal to your customers, to become more people-centric, viewing the diverse values of all people and how your purpose aligns, which guides how you serve them.
Crocs strategy is rooted in a 'consumer-first approach.'
The global shoe company Crocs, the maker of the iconic classic clog, is a brand that listens and responds one-on-one to their fans.  According to their Head of Global Marketing, Heidi Cooley, one of their most important strategies in dealing with the impact of COVID was being 'consumer-first' –listening and responding to the needs of their customers and being agile in that response.
When COVID hit, Crocs starting hearing from many of their customers who are in healthcare, on what was important to them.  They needed a shoe that was functional, comfortable, and easy to care for. Crocs responded with 'a free pair for healthcare' which has been their most important program to date.  In 45 days, Crocs gave away over 860,000 free pairs of Crocs valued at over $40 Million to healthcare heroes.
This same approach led to another successful program – a collaboration with Ruby Rose, actress and LGBTQ+ advocate who designed a shoe for PRIDE.  Heidi Cooley shares that "every collaboration comes from a place of authenticity.  Ruby Rose was already a fan of Crocs and she recognized the alignment of Crocs brand manifesto 'Come As You Are' with her values.  These programs have helped Crocs build incredibly goodwill with fans that believe in our vision."
Inclusion increases advertising performance and purchase intent
When marketers view their purpose through a more inclusive lens, they come across as more genuine and authentic in their advertising, which impacts advertising performance and purchase intent.
63% of people in our survey say brands representing diversity in ads are more authentic.
72% of people said they are more likely to support brands that are authentic in their advertising.
When we compared ads that consumers deemed 'non-inclusive' and ones they said were 'inclusive', the inclusive ads had a much bigger lift in purchase intent, with the highest performing ad seeing a 28 point top box lift, as opposed to the second-highest performing ad that was not inclusive at a 10 point top box lift. People said that it made the brand feel more genuine and authentic.
Adopting an inclusive consumer mindset
Microsoft Advertising has developed three strategies and five behaviors to help marketers adopt an inclusive consumer mindset and create a trusted brand that people are passionate about.  Like three legs of a stool, these three strategies must go together to create a strong foundation for your brand.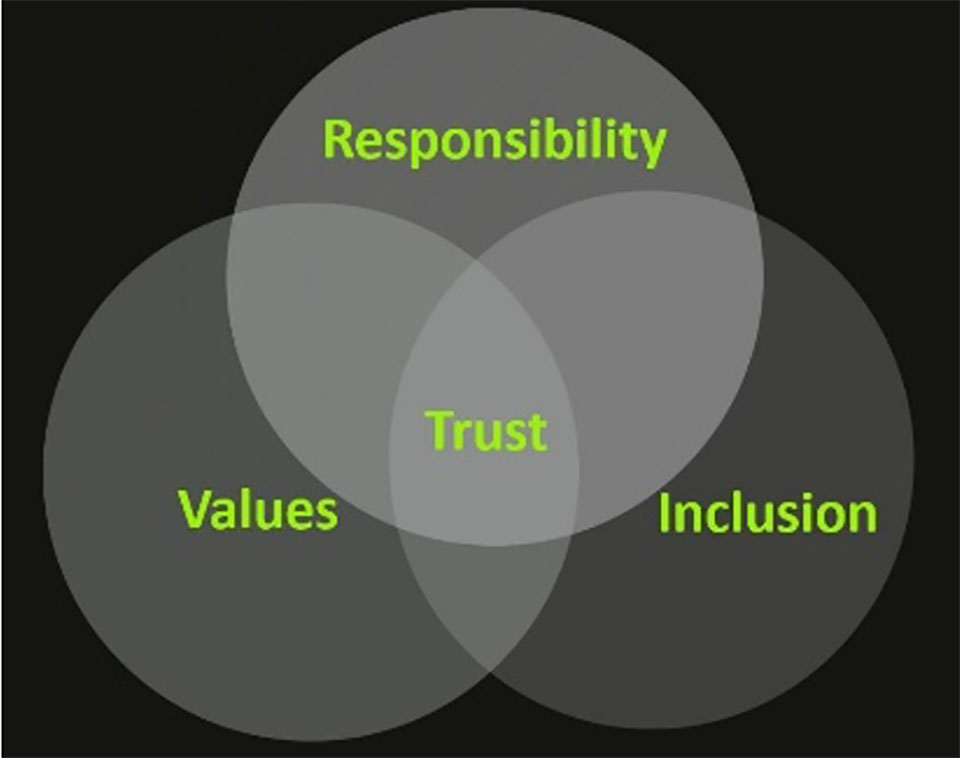 Responsibility
First: Trust isn't static, and businesses must put long-term strategies in place to maintain trust and inspire customer advocacy.
Second: People want equitable experiences — not just compliance. Focusing on accessibility is imperative and creates new opportunities to be fair and equitable to all customers.
Responsibility is about doing the right thing – not just what is legally required of you.
Values
Third: People want positive-impact products — not cheap, unsustainable ones.
Fourth: People want brands that take a stand, not just play it safe.
You can create more personal connections by making sure that what you're selling and the brand you're representing is just right for your customer.
Inclusion
Fifth: people want inclusion — not just to be included.
Inclusion is the key to ensuring your advertising properly reflects people and their values in a genuine and authentic way. It's not just doing multi-cultural marketing.  It goes much deeper.  You need to think about what you market, who you market to, and how you market with an inclusive lens.
Putting purpose into practice to ignite passion
You can download our Marketing with Purpose playbook (aka.ms/marketingwithpurpose), an in-depth step-by-step guide for helping you implement these three strategies and five inclusive behaviors.  We include the findings from our research studies and we break down topics like the importance of privacy, accessibility, sustainability, advertising ethics, brand and consumer values and inclusive advertising strategies.
Also, check out the first episode of our new video series 'The Download'. We have an entire segment on Marketing with Purpose with insights from our Inclusive Marketing Lab, interviews with Good is the New Cool author Afdhel Aziz, and Crocs Head of Global Marketing, Heidi Cooley.
No matter the stage you are in on your journey, invest in truly understanding people's values –go deep into diversity and be open to uncovering new insights and finding new audiences you may not have considered before. When you understand peoples' values, and you evaluate your brand's purpose for how you can support those values, you find the sweet spot of shared meaning and ignite passion with your employees and your customers.
Sources: The Acceleration of Brand Performance through Trust, Love, and Loyalty. Microsoft Advertising Research 2019; The Psychology of Inclusion and the Effects in Advertising, Microsoft Advertising Research 2020.