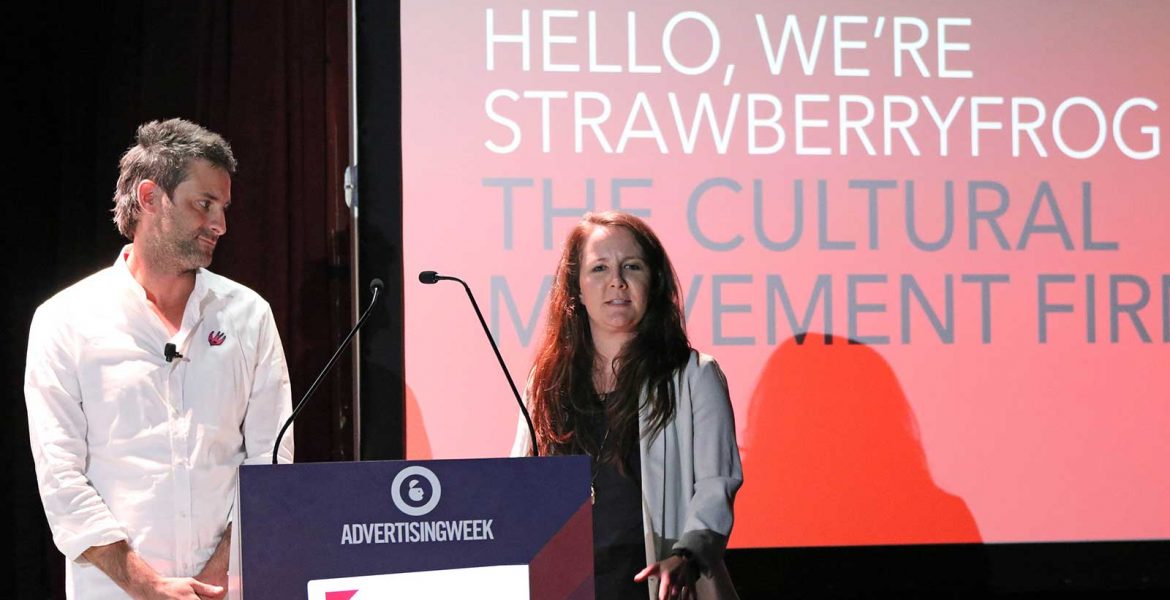 StrawberryFrog, the world's first and only Cultural Movement Firm, hosted a "Frog Talk" today on examples of movements that are powerful forces of change in our world and explain how businesses and customers alike can benefit from getting involved in a movement.
StrawberryFrog connects brands to social movements. Instead of just asking to be noticed by customers, aligning your brand with a movement incites passion and connects your consumers over their beliefs, according to Tyler DeAngelo, Executive Creative Officer at StrawberryFrog and Ashley Connors, Head of Strategy at StrawberryFrog.
Katie Hood, CEO of the OneLove Foundation, leads a movement to end relationship abuse in the U.S.and believes in the power of movements to "wake people up and engage them in action."
Hood wanted to educate young people on healthy and unhealthy relationships to minimize the number of women and men who are subjected to abusive relationships in their lifetime. In order to reach this younger audience, Hood realized her foundation would need to communicate on the same channels as this generation and use the same language. For that reason, Hood began utilizing filmed content that is personal and easily shared. However, OneLove's secret is mixing these forms of large scale communication with face-to-face communication. These moments of personal interaction is where the magic happens for this movement, according Hood.
Hood's goal is to continue to move the foundation up the "commitment curve." Getting people to participate in the movement begins with awareness, reaches understanding, moves to caring, and finally reaching internalizing the change, according to Hood.
"We've gone beyond education," said Hood.
The onUp movement uses similar methods to help lead people from financial stress to financial confidence. Senior Vice President of Brand and Marketing Communications Holly Wason from SunTrust pointed out how Americans tend not to trust banks or talk about finances, therefore many need help understanding and changing their financial situation. The onUp movement's purpose is to "light the way to financial well-being for all Americans," according to Wason.
The "heartbeat" of the onUp movement is their website, according to Wason, which helps them spread their message and connect to communities.
Some movements are focused on making impacts on the environment in order to promote social well-being, such as the Save the Great South Bay and Drink the Bay Clean movements. Marshall Brown, President of Save the Great South Bay, explained how to deterioration of the clam, fish and shellfish habitats were ruining water quality in the Great South Bay and hurting those who made a living off the shellfish industry.
"This is the biggest environmental crisis you've never heard about," said Brown.
So the question Save the Great South Bay presented was, "Can a beer save the bay?" Blue Point Brewery teamed up to make a beer that donates portions of its sales back to the bay restoration and preservation.
The final speaker spoke on behalf of the #VanLife movement, a movement Photographer Jeff Minton – Photographer came to know well while doing a photography job for The New Yorker. Van Lifers make their life into a permanent vacation by traveling around the country and keeping their fans active in their lifestyle with social media, blogs and photos. These Van Lifers are known as micro-influencers and make their money from sponsorships, or brands that will pay them/give them free products for shout-outs on their social pages.
"The question is, are they living the dream?" said Minton, "I kinda think so."
There is not issue a movement can't take on, according to Connors. Anything that incites passion in a person is a potential to make a change in the world. These movements, with the help of StrawberryFrog, are doing just that– using their power as a brand to be a force of change in society.