Welcome to the new normal, where businesses across the globe experience the impact of the COVID-19 and have to adapt fast due to a mass behavioral change. The media buying industry is not an exception. With most of Europe, North America, Australasia, and APAC in lockdown, marketers are rethinking budgets and repurposing their resources.
This is an attempt to take a brief overview of what impact these changes have on programmatic advertising as of now, several tactics helping brands to adapt (or at least stay lean and flexible as much as possible), and key events to watch in order to calibrate further strategies.
Industries under threat vs industries going to thrive
Businesses across the globe are going to be severely impacted by pandemic, no question about it. Some categories that have been challenged by the outbreak most so far are, apparently, travel, hotels and accommodation services, airlines, cruise lines, rental car services, event and entertainment industry, and counting.
In their recent report, based on data on digital trends shift, SimilarWeb shared the impact of the COVID-19 on the economy. For instance, here's how weekly unbounce traffic share across different business sector in the US:
Source: www.similarweb.com 
But on the flip side, we'll see areas that are going to be profitable, or at least will experience some short-term growth.
According to numerous perspectives, the list of potentially profitable industries varies from telehealth, online education, food and groceries, and video games to productivity SaaS, mobile security, and cloud computing services.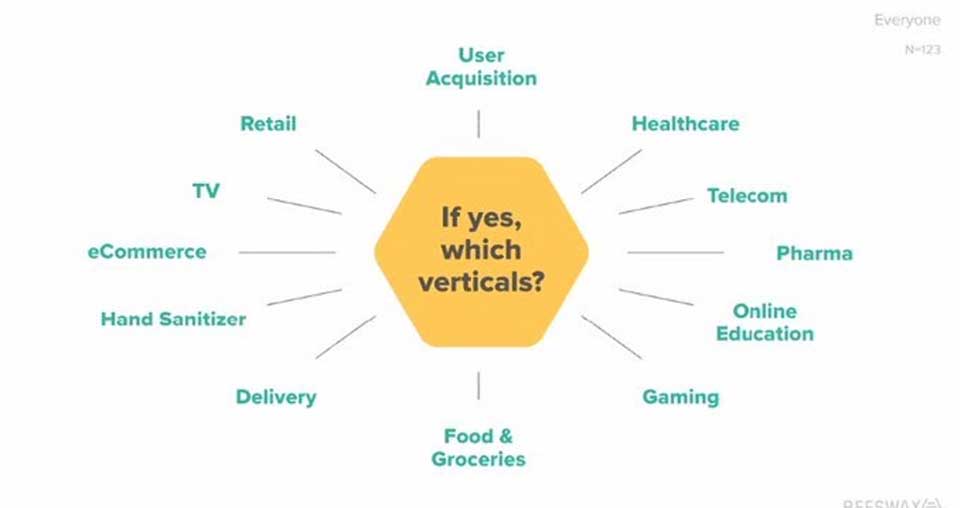 Source: https://beeswax.com
A lot of online video services will experience a positive uplift as the world is communicating now screen-to-screen instead of meeting face-to-face.
Besides, people are obviously consuming tremendously more content now: business information, television, online gaming, numerous media outlets. And what is more, according to a recent Kantar survey among consumers, most of them look at advertising during an outbreak approvingly: only 8% respondents thought brands should stop advertising.
So, which advertising channels can brands still use to reach out to people staying at home?
Programmatic channels in use
Messaging apps are making bigger gains as families turn to messengers to stay in touch. For instance, in countries under strict lockdown, such as Spain, usage of WhatsApp has been up 76% in a few short weeks.
Digital audio and podcasts see an uptick. Adding to that a growing number of new-born podcasts, makes this channel look promising for advertising.
Mobile gaming. Currently, gaming time in the US is up 75%. Additional interest for games comes from many sports events cancellation and postponement. For instance, FIFA and F1 starting gaming to replace the tournaments, provide space for sporting void and in-game ads mostly on mobile.
Connected TV is another attractive ad channel for brands. This is where the role of content is going to remain strong. Plus, home entertainment will take an additional role to replace the cinema temporarily.
As people stay at home due to the crisis, livestream commerce could become more relevant than ever.
Ad spend situation
While there are still effective ways to reach out to audiences with ad messages, brands are getting more cautious and reconsider their ad budgets.
A week ago IAB presented insights from a recent survey on ad spend in the US. About 400 brands and agencies shared how they're going to change ad budgets allocation and messaging strategies. Several figures:
70% of buyers have already adjusted or paused their planned ad spend
24% of respondents have paused all advertising spend for the remainder of Q1 and Q2
On average, digital ad spend is down 33%
From another perspective, according to eMarketer, the total media ad spending worldwide will reach $691.7 billion, up by 7.0% from 2019. That's a decrease from their previous forecast when it expected worldwide ad spending to rise by 7.4% to $712.02 billion this year. The global forecast gets lower partially due to a reduction in China estimates, as it's the world's second-largest ad market after the US, and has a significant impact on the situation across the globe.
Thus, the report has downgraded China's 2020 ad spending growth rate to 8.4% from 10.5% due to a reduction in spend across all media formats, including digital.
Source: www.emarketer.com
Back to IAB's figures, the severity of ad spend adjustments among US brands and agencies can be seen more clearly as budgets are reducing across ad channels: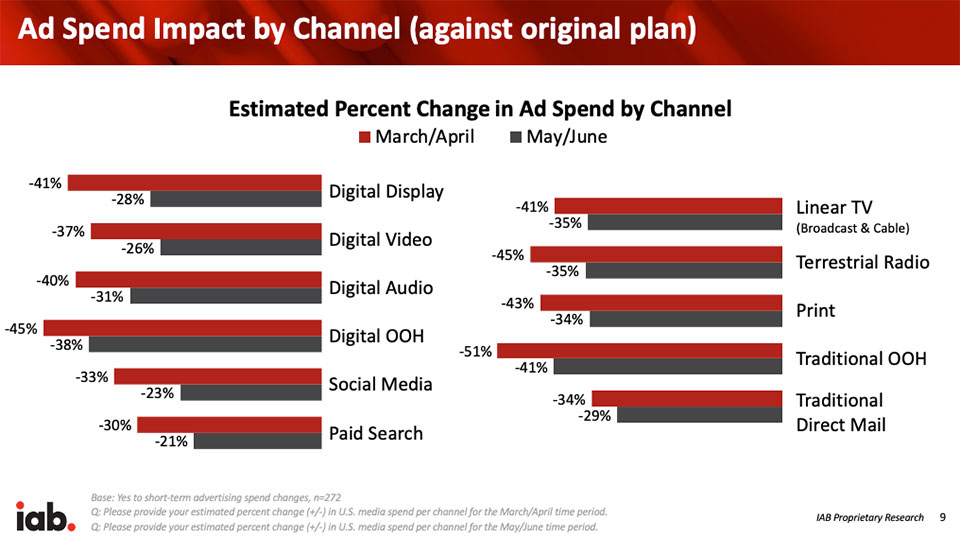 Source: www.iab.com
Yet, over a third of advertisers are making tactical changes in their digital ads strategies and increasing attention to targeting opportunities. The most increase will be seen in:
Audience targeting (+38%)
OTT / CTV device targeting (+35%)
Mobile / tablet device targeting (+34%)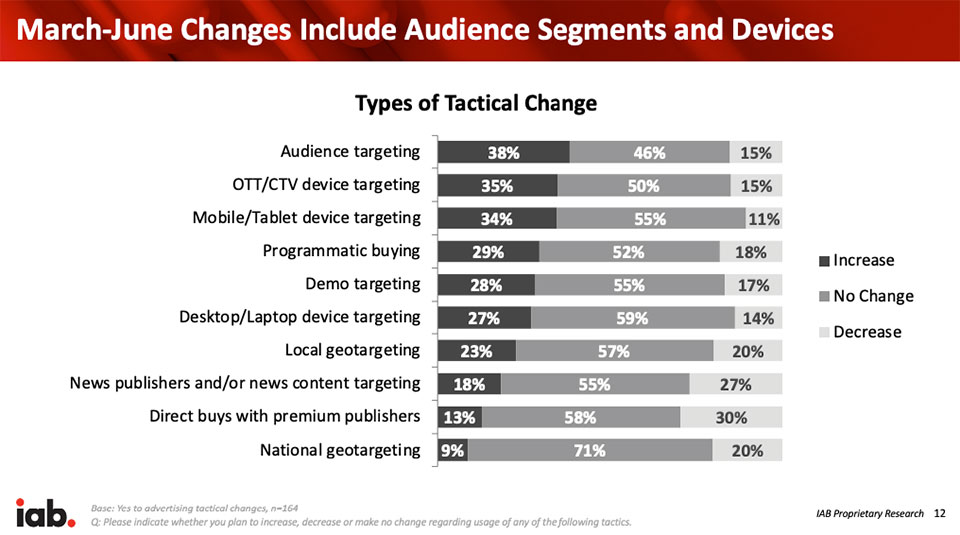 Source: www.iab.com
Growth of performance-based marketing
Along with ad budgets shifts and adjustments, marketers make changes to their message strategies. According to IAB, mission-based marketing jumps 42% amongst coronavirus.
Companies are expanding services and promotional offerings tied to homebound audiences, find creative ways to signal their support of public health measures and start leading fundraising efforts. Basically, partnering on cause-related marketing with one or more relevant partners now may be one of the best strategies to maximize existing budgets while connecting with new customers and maintaining the loyalty of existing ones.
Another approach that is going to see an uptick in performance-based advertising. If we look at advertising historically, even pre-internet era, we'll see that during every time of economic downturn advertisers shift dollars from global branding to more specific lead generation performance-based marketing. This is the way you can increase your own sales and scale customer acquisition versus building a brand. Plus, for marketers it helps accelerate the availability of user data access, tighten up targeting and make messaging more accurate, useful and engaging for consumers.
On the other hand, an outbreak might be a good time to invest in a brand. Since it's getting less competition, bids in Google and Facebook decreased significantly, in turn, providing more opportunities for marketers who have some space to maneuver across their ad budgets.
Besides, sooner or later the lockdown will be over and we'll see the economy gradually leveling off. Brands that are going to be constantly within sight of consumers during these times (even though their category might be out of reach right now) will reap the benefits. With high probability, when we get back, consumers will remember and purchase from brands that have been along with them as these brands appeared within the minimum advertising noise along with much less similar products.
Keeping eyes on
Still, with forecast adjustments, a lot of uncertainty remains in front of all of us. Will the ad spend decrease long for Q2 only or will also seize Q3? When will sports return? Where will the Olympics ad budgets go? What will the spend differences be across the verticals? Will there be any shifts in support for news? These are just a few events to watch in order to calibrate ad strategy on-the-go, while we all keep embracing new normal.