You're invited to AW2020, Advertising Week's digital event, September 29-October 8 to help work through solutions to some of the advertising and marketing industry's biggest problems. From climbing unemployment to racial inequality and an unclear future, now is the time, more than ever, to think and work together. Register to learn more.

---
"When Coach O speaks, we all listen," tweeted Louisiana Governor John Bel Edwards.
In the COVID-19 crisis, anxious elected leaders and health officials turned to influencers with deep cultural connections:  sports and entertainment heroes. Their mission is to break through with public-health messages and change behavior.
Celebrities whom people feel positively toward are able to influence people when those celebrities take a position, says Professor David J. Jackson of Bowling Green State University. Jackson has studied celebrity endorsements and public opinion, including in politics.
In Louisiana, football Coach Ed Orgeron appeared on billboards and other media with the tag line "WIN! BY STAYING IN." The gravely-voiced coach is universally known in Louisiana; his outsized persona benefits from the glow of a recent sports trifecta:
His football team (Louisiana State University) won the national championship in January
Undefeated LSU beat Alabama in the regular season
LSU's quarterback Joe Burrow was selected Number One in the National Football League draft on April 23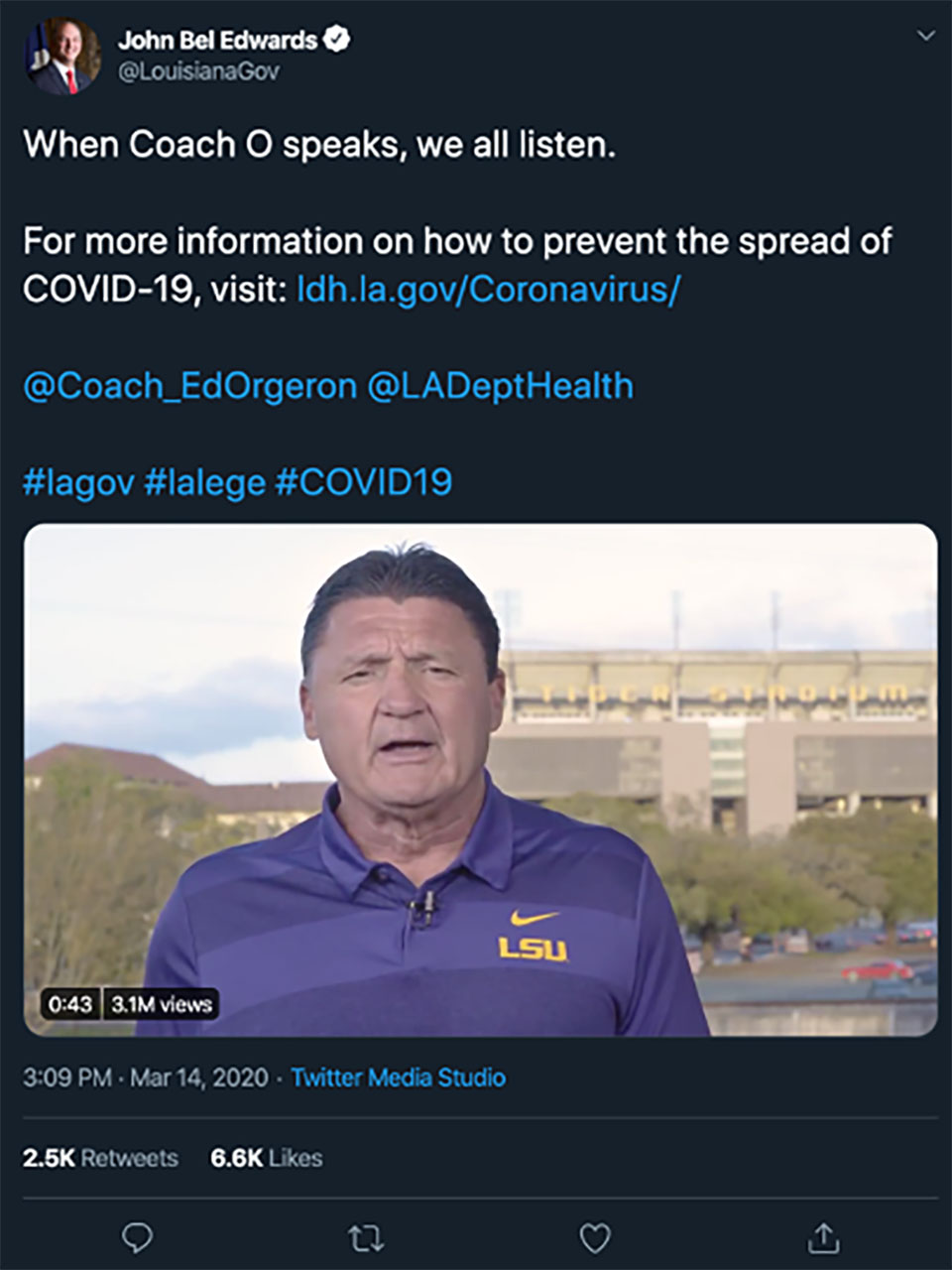 Governor Edwards' COVID-19 tweet featuring Coach Orgeron got plenty of attention.
Chicago sports teams (basketball, baseball, football, hockey, and soccer) joined a public service campaign that declared "WE ARE NOT PLAYING AND NEITHER SHOULD YOU." It launched on out of home and digital media.
"I am grateful to each of our hometown teams," said Chicago Mayor Lori Lightfoot.
In Tennessee, Governor Bill Lee recruited influencers from sports and music to ask the public to "Do your part, stay apart." The Tennessee campaign generated nearly 20 million impressions in less than 30 days, the governor announced on April 23. Garth Brooks and Trisha Yearwood are the latest celebs to join the multi-media effort.
Globally, health messaging also features culturally connected communicators who could affect behavior (wash your hands, keep your distance).
In Mexico, cartoon heroine "Susana Distancia" battled the virus. Vietnamese health officials worked with a lyricist to re-do a popular tune to promote cleanliness.
Graffiti artists in Senegal created "messages that people understand," said Serigne Mansour Fall, also known as "Mad Zoo."
"Visuals," he says, "can be stronger than words."