By Tristen Norman, Head of Creative Insight for the Americas, Getty Images 
Sultry. Sexy. Spicy. Machismo. Drug lord. Service worker. Farmhand. Exotic. Ambiguous. Immigrant. Invisible. Other.
There are nearly 58 million individuals of Latinx/Hispanic descent living in the United States, making this community the nations' largest racial or ethnic minority; yet their representation in media is often boiled down to the least common denominator, one‑dimensional archetypes like the ones above. Men, women and everyone between or outside the binary are often highly sexualized. Women are flattened into exotic playthings or domestic workers. Men can only be macho, hypermasculine and dominant. Everyone is stripped of their unique stories and relegated to the background as the ambiguous "ethnic" friend, the service staff or some other offensive and harmful stereotype.
Last year, iStock by Getty Images launched the Nosotros Collection: the very first curated collection aimed to help dismantle some of these pervasive stereotypes that exist in the Latinx/Hispanic community. With National Hispanic Heritage Month upon us, it's an important time to call out the urgency of the content in the collection and use it as a lever to reclaim Latinx stories in our visual landscape. Here are some tips for doing that.
Don't rely on visual stereotypes
Make sure to counteract common stereotypes by selecting authentic visuals that put an end to Latinx clichés and represent the community in a real and representative way.
This year, the most popular images from the Nosotros Collection are significantly more varied than previous years of downloaded Latinx content in terms of categories, and intra-Latinx race, ethnicity and age. For example, the most popular image in the collection this year is of a young Latina businesswoman, with seniors and people over 50 make up over 25 percent of popular content. This is a step in the right direction, but we have to keep our foot on the gas. Diverse imagery of the Latinx community is long overdue, and it's critical that we keep integrating it until harmful stereotypes are dismantled in the advertising and media industries.
Elevate the multiple layers of identity within the Latinx community
The Latinx population is a large and diverse community, so it's critical to represent Latinos of all ages, genders, sexualities and racial and ethnic backgrounds. Despite significant progress since launch, Mexican Latinos still dominate our Latinx searches. Media and advertising must also authentically represent Dominicans, Puerto Ricans, Cubans, Colombians, Ecuadorians, Hondurans and Indigenous Latinos.
Additionally, so far this year, 22 percent of our top 500 popular images feature Latinx models of African descent, which is a significant improvement in comparison to previous years. However, we need to keep this momentum up.
Beyond race and ethnicity, we also have to embrace other layers of identity within the community. Unfortunately, there is still a fairly low utilization of visual content featuring Latinx people who are LGBTQ+ or Latinx people with disabilities.
All in all, the Latinx community is intersectional and can't be boiled down to a single, shared trait. It's important that the visual content we use not only highlights diversity in the Latinx community but celebrates it.
Tell complete, well-rounded stories that paint a real picture
Finally, it's essential to avoid tokenism and instead focus on showcasing the true experiences and perspectives of Latinx people. This means digging deep to truly understand members of the community, and the many layers of identity that I touched on above.
When we kicked off the Nosotros collection last year, our mission was to mend not only the lack of diversity in appearances and nationalities but also the lack of robust storytelling representing the Latinx community in the media industry. Brands can ultimately help achieve this goal by selecting visuals that show all aspects of Latinx people's lives (i.e. with family and friends, at home, at work, celebrating, traveling, etc.).
The Nosotros Collection should continue to serve as a guiding point and a place where people can access imagery that authentically portrays the Latinx community. But, at the end of the day, real change will come with brands actually integrating these visuals in practice. Looking forward, brands should commit to improving the representation of the Latinx community in their content and hold themselves accountable by consistently selecting imagery that helps them do so.
About Tristen Norman, Head of Creative Insights for the Americas, Getty Images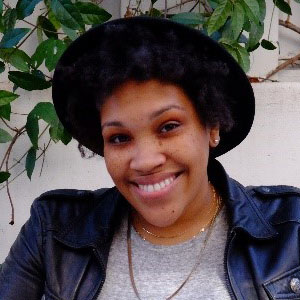 As Head of Creative Insights for the Americas at Getty Images, Tristen operates as one-part visual anthropologist and two-parts data scientist – working across disciplines to understand what motivates visual selection, identify trends within the visual language and using this data to help shape the development of Getty's creative content globally.  Leveraging consumer research, social and cultural listening and pairing it with proprietary data, Tristen hones in on the valuable insights that feed the development of Getty Images' own creative collections.
A passionate advocate for elevating marginalized voices within creative spaces, Tristen also plays a critical role in supporting and advancing initiatives and partnerships such as LeanIn.org, MuslimGirl.com, Refinery29 and a number of creative grants, with the aim of championing diverse visual narratives at Getty and beyond.
Tristen's experience stems from over eight years' experience in creative design, market research, and brand strategy.  Prior to joining Getty Images, Tristen was most recently a Senior Experience Strategist at Wunderman, where she was responsible for developing creative, data-driven omnichannel creative brand strategies for clients across a variety of industries.